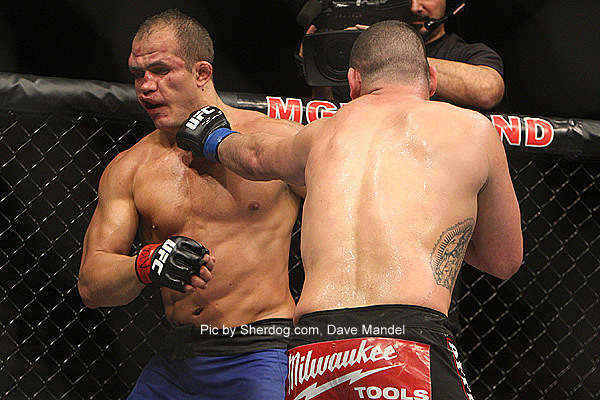 "Cain looked incredible tonight," said Dana at the UFC 155 post fight presser. "They were both in great shape, Junior was in great shape… Imagine if that was the first fight on FOX. Dammit!"
Last night Cain Velasquez entered the cage against JDS and took his belt back through five rounds of stifling attacks on the feet and the ground as well. "I didn't think that thing was going five rounds," said Dana. "In a million years there's no way I thought that would go five rounds."
In fact, to quote Velasquez that day before the fight, he did exactly what he said he'd do. "You know, going out there and executing," said Cain to Helwani from mmafighting.com before the fight. "Just with more urgency and I definitely carried that on to training as well with the fight with Silva and obviously this one."
The key word in the fight was 'urgency' as Cain swarmed JDS early with a simple yet relentless strategy of attempting one take down after another. He must have shot for a good ten take downs in the first minute or so of the fight and was stuffed ever time initially.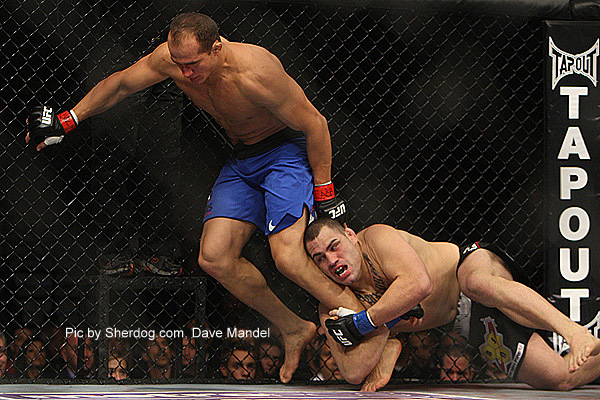 It was when he decided to stand and trade blows with the champ that he started to find success. Upon catching JDS with a monster of an overhand right, he was able to implement a descent ground attack against a man who had only experienced 13 seconds on the ground, in his entire career up to this point and yet was dragged, slammed, and taken down 11 times throughout the night (fightmetric.com).
"That was the big question during the fight, could he take him down and could he keep him down," said Dana. "And what was interesting was, he beat him on his feet, which enabled him to take him down and keep him down. Or sorta keep him down. More than he's ever been kept down before."
Cain landed a total of 210 strikes to JDS's 66 (fightmetric.com). That's impressive against anyone at the highest level of the sport, but especially against a man who had never dropped a single round to any opponent in his entire career before last night. "The biggest land slide in a title fight? Yah maybe," said Dana. "Going five rounds like that, that one sided? Yah probably."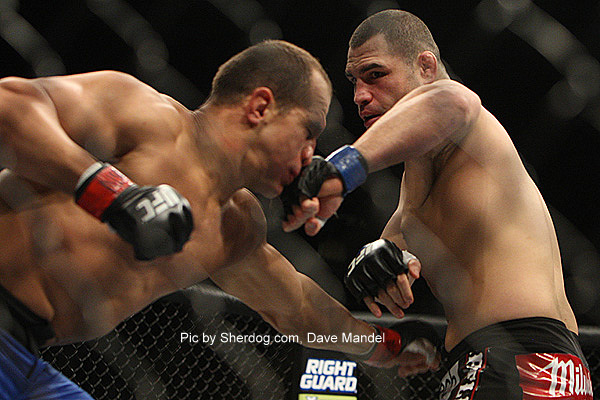 With such a dominantly one sided performance in their first fight, some may wonder if JDS simply didn't take Velasquez seriously this time. "I don't think Junior Dos Santos thought Cain, I mean he respected him the whole time," said Dana. "And what I told you before, Junior Dos Santos said to me in that luncheon.. I want to fight Overeem so bad but I know Cain deserves this fight."
Looking forward in the heavyweight picture, Alistair Overeem, Daniel Cormier, and others are in the heat for a heavyweight title fight. Of course Overeem is set to fight Antonio "Bigfoot" Silva upon completing his suspension, while Cormier and Velasquez have openly said they would never fight each other.
But with both Dos Santos and Velasquez having split two fights evenly between each other, a rubber match between the two greatest heavyweights of all time might be inevitable. "I think trilogies are always awesome," said Dana. "Especially when both these fights went the way that they did. I mean everybody, I want to see the third fight."
Watch highlights from the UFC post-fight presser in the video below.
Video courtesy of mmafighting.com