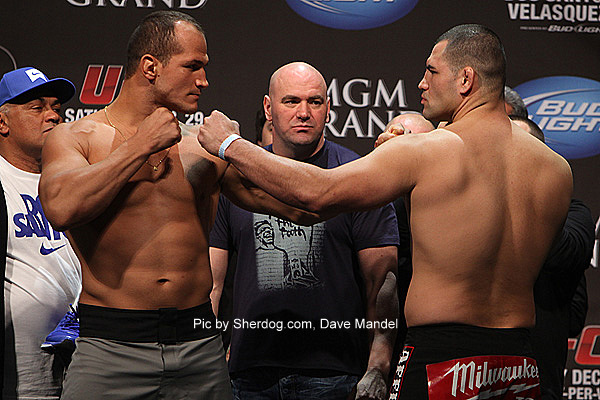 The talk is almost done as weigh-ins and the final pre-fight media circus seem to be slowing down in the wake of UFC 155's year ending event, tomorrow night at the MGM Grand Garden Arena. The two men in the main event showed up for the prefight press conference and afterwards were able to answer questions with mmafighting.com's Ariel Helwani which is primarily what's quoted below.
A quick observation of both competitors is that they seem injury free and ready to rewrite or change the script of their first meeting in the cage, depending on the outcome they earned in their first scrap in 2011 when they made history as the first UFC fight on FOX.
Junior Dos Santos entered the building for the pre-fight presser and immediately caused a stir as media members and fans alike observed that he was noticeably larger. "I'm pretty stronger now. I did an extra camp in Brazil," said JDS. "I did a lot of weights. I earned some pounds. So now I'm really feeling very well. I'm stronger, faster, with more experience, so I think Cain Velasquez is going to face a better fighter."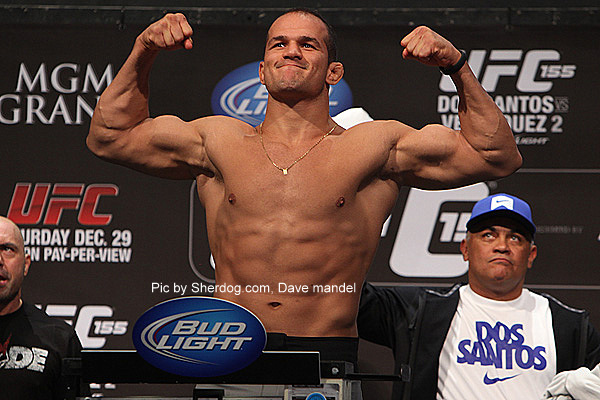 Cain seemed unperturbed by JDS's added size when Helwani asked his thoughts on the matter. "Hittin the gym a little more? I don't know."
Recently a video of Cain's injury surfaced from a member of Cain's old training camp. It bothered JDS and Cain alike since both men felt it was irrelevant at this point. "I don't know why people are saying that, the injury was the knee," said JDS. "I hit him in the head you know? It doesn't matter if his knee was good or not ya know? If I punch him in the head again, he is going to go down again. I really believe that." In JDS's case, he remembers being injured to before their first fight as well. "I don't know, people are saying that. I was hurt too, with a knee injury too. I just enjoyed the better moment. That time I was better than him and that's it, I won the fight. It was Cain Velasquez fighting against me, the best Cain Velasquez, and I know that and for sure now he's coming with a very good strategy. I think he's going to take me down right away, but I'm very well prepared for that and I want to knock him out again."
Neither combatant really seemed concerned about the past at this point. Both are focused on imposing their own unique brand of physical force tomorrow night. "I think this fight could be longer, because he's going to come and like try to use his wrestling to make a boring fight," said JDS. "But if I see the opening, you know the moment, I'm going to enjoy the moment again, and this fight can be faster [than the last one]."
Cain's game plan is a little more broad in it's scope. "I thought about just all the scenarios you know," said Cain. "It being a knockout, it being a TKO, submission you know, having it a five round grueling fight. Just every time with me on top."
When Dana White said that he would've like to see Cain shoot for a takedown and essentially commit more to getting the champ to the ground, Cain pointed out the issue of entering the cage with too strong a focus on one aspect of a mixed martial arts battle. "It's not a thing of just shooting…," said Cain. "You've gotta set it up.. It's not just that easy anymore of just shooting. Cause guys are so good at everything right now. Wrestling the kicking boxing, the punching, everything."
The ball is definitely in JDS's court since he is the champ this time and Cain already lost to him. JDS knows this and made a strong point on the matter in the interview with Helwani.
"Right now I think he deserves [the title shot]," said JDS. "Right now he's really good and he has just one defeat in his career and that was from me so I think he deserves to be fighting for the title again. But I think it's not going to be very good because he's going to lose this fight and then he's going to go back to the beginning of the line, and it's not so good. All the guys who lost twice for the champion, they move to another division so I don't know what's going to happen with Cain Velasquez."

Velasquez feels he will change the outcome of this fight for one reason: a renewed sense of urgency. "Yah you know it's the thing of having a game plan," said Cain. "You know, going out there and executing. Just with more urgency and I definitely carried that on to training as well with the fight with Silva and obviously this one."
With both men having been clearly injured in their last foray, and even more adamant this time of being injury free, this fight is hard to predict, regardless of the outcome of their first match.  Look to see JDS drop bombs while Cain attempts to impose his stifling ground attack. Regardless of the outcome tomorrow night, the fans will be the true winners.
Watch the recent weigh-in highlight of the two baddest dudes on the planet in the video below.
Video courtesy of the UFC