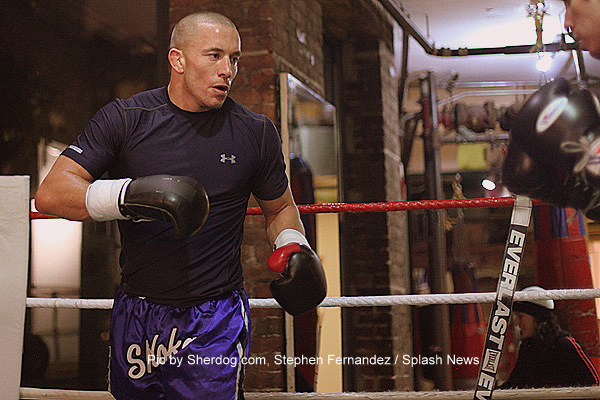 The UFC 158 card will feature three big welterweight showdowns, all officially announced by the UFC recently during the TUF 16 Finale broadcast.  Headlined by GSP vs. Diaz, Condit vs. Macdonald, and Hendricks vs. Ellenberger will also grace the main card.
The outrage in the MMA community has been placed at UFC Dana White's door step through various forms of questions that all come back around to one single point. Why is GSP vs. Nick Diaz even a consideration?
Dana's frustration is almost palpable in a recent response he gave to reporters at the TUF 16 Finale post-fight presser. "The UFC didn't do it. The champ did. The Champ called him out. The champ called him out and wanted to fight him. So the UFC didn't do it. The guy who holds the belt did. That's who he asked us to fight. And like I just said, when somebody goes on a run as long as Georges St Pierre has and has done what he's done for the sport and that division and everything else, and they ask for a fight that they want, then they'll get it to."
The biggest loser in all of this is the generally uncontested number one contender in the welterweight division, Johny Hendricks. Yet he apparently has agreed to take a fight on the same card as GSP vs. Diaz, even though he has been recorded saying he would not take a fight until he was granted his shot at the champ. "Just have to win and GSP has nowhere to hide from me," said Hendricks to mmafighting.com about his mentality he will be taking in to the Ellenberger fight.
"You wait, you do the Rashad Evans thing," said Dana, "where you're out for, you really don't know what's going to happen. Especially these days."  Dana went on to say that he likes Hendricks and will probably give him the nod for the next shot at GSP if he wins at UFC 158.
"Man, he's scared," said Hendricks to mmafighting.com. "That's why he wants me to keep fighting because maybe I'll lose and then he won't have to retire [before fighting me]."
Whether Dana thinks Hendricks is ready for GSP, he seemed fairly indifferent at the moment with the Diaz fight all but written in stone at this point. "I don't know if he is or if he isn't, said Dana. "But Georges St Pierre is the champion. The champ wants to fight Diaz. [Hendricks] can be as frustrated as he wants to be. When he's got the belt, you know, and defends it, and breaks records, as long as Georges St Pierre then, then I might listen to him."
Hendricks better not wind up over looking Ellenberger though. Before getting KO'd by Kampmann, Ellenberger was on the verge of a title shot himself since going on a six fight win streak against many of the top fighters in the welterweight division. Some of those on his hit list included Jake Shields (who he KO'd in 53 seconds of the first round), Mike Pyle, and Diego Sanchez.
"I think the Hendricks fight is a popular fight too," said Dana. "I mean this guy's been skidding people across the Octagon when he hits them. It's a very interesting fight. So it's not a bad thing… Hendricks is definitely a contender right now and yes, he'd be next in line."
Dana may put this one on GSP, but he didn't deny the fight would carry some weight in the MMA community. "You know the guy's never asked us for anything you know he's an awesome champion, he does anything we ask of him and he asked us for a favor. So he wants to fight Diaz? it's not like people don't want to see it."
At this point many struggle with GSP's decision to overlook Anderson Silva or the number one contender in his weight class and go out of his way to call out a man that is coming off a loss and one year suspension.
"He's just had a really tough fight, he's been off for almost two years," said Dana. "He had a hard fight with Carlos Condit, ya know, and maybe he looks at Diaz as an easy fight for him. He was really upset with a lot of things that Diaz said and did. I'm sure it's a combination of everything but I can't honestly say that, he knows the answer to that not me. 
Watch Johny Hendricks talk about his frustration at being overlooked by the champ in the video below.
Video courtesy of HDNetFights