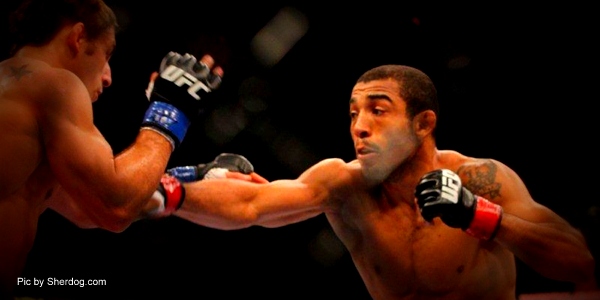 This all started when fighters like Hatsu Hioki wouldn't fight the champ, then a guy named Erik Koch stepped up, got injured, and now all of the sudden a former champ from another weight-class gets to make his debut in another division with the immediate opportunity to fight for the title.
UFC officials announced on Tuesday's new edition of FUEL TV's "UFC Tonight" that the highly-anticipated match up between UFC featherweight champion Jose Aldo (3-0 UFC) and former UFC lightweight champion Frankie Edgar (9-3-1 UFC) is set for Super Bowl weekend.
UFC 156, takes place Feb. 2 at a venue yet to be determined. The UFC had held a Las Vegas pay-per-view event on the eve of the NFL's Super Bowl every year since 2004 having a great deal of success.
Aldo and Edgar were expected to meet in the headliner of UFC 153, which took place earlier this month in Brazil. However, an Aldo motorcycle accident postponed the match up and Anderson Silva ended up facing Stephan Bonnar in the night's main event finishing him in the first round and leaving the crowd on their feet.
Aldo brings an impressive 14-fight win streak into the fight and is the UFC's first and only featherweight champion to date. He fought for the first time under the Zuffa banner in June 2008 under the former promotion of the World Extreme Cagefighting (WEC). Aldo went 8-0 while fighting for the WEC and earned the promotion's 145-pound title with a dominate win over Mike Brown in November 2009.
He then defended the belt twice before the company's talent was shipped over to the UFC. Aldo has since beaten top prospects and defended the belt against Chad Mendes, Kenny FLorian and Mark Hominick. Aldo is ranked the top featherweight in the world and is ranked the #4 pound-for-pound fighter in the world according to Sherdog.
Meanwhile, Edgar will make his debut at 145-pounds after a 13-fight run in the octagon as a lightweight. "The Answer" earned the UFC's lightweight title with a win over former champ BJ Penn before ultimately surrendering it four fights later in a loss to Benson Henderson. Edgar also came up short in a rematch with Henderson, which prompted Dana White and Edgar's camp to make the move to featherweight.
Watch the video below where Ariel Helwani first broke the news.

Video courtesy of Fueltv..
My Thoughts:
I think this fight will sell very well, not too mention it's on Superbowl weekend. Do I think Edgar deserves a shot so quickly in another weight-class when he hasn't earned it? Do I think a fighter coming off a loss should get a title shot in another division? In Sonnen's case, I say no, but in Edgar's case, I say yes.
Edgar has earned his shot through being a true athlete, not running his mouth. Plus I believe their isn't too much talent in the featherweight division right now, so Edgar makes sense right now, that's why Florian got a shot so quickly, but he did have to earn it beating Diego Nunes but still.
The problem I see is, what if Edgar loses? A man that was on his way to being a hall-of-famer could kill his own legacy. I hope Edgar has the answer for Aldo or he will be yesterdays news.
These thoughts are of mine and no one else's, and for the record, I'm a huge Sonnen fan so I was not talking smack, I was simply telling Sonnen fans and "The American Gangster" the truth and how it goes.
Sonnen loves to talk and write books, but he knows as well as Edgar if he loses he will be gone. If Edgar was smart, he would have signed a TUF show contract that way he had more time to talk before getting his ass kicked like Sonnen.