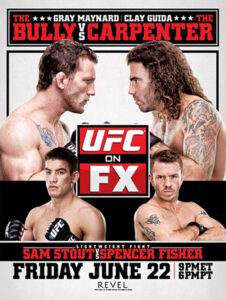 UFC on FX 4 featuring Gray "The Bully" Maynard vs. Clay "The Carpenter" Guida will take place on June 22nd, in Atlantic City, NJ. It will be a five round non championship main event bout.  Both men are coming off tough losses in the lightweight division and are determined to rejoin the contenders in the light weight division.  Maynard lost by TKO to former champion Frankie "The Answer" Edgar at UFC 136. It was a tough loss for him since he managed to hurt Edgar in the first round but couldn't finish him off and wound up suffering his first loss in his career.  
Guida is coming off a loss to current champion Ben Henderson at UFC on Fox.  He lost by unanimous decision in a fight that was typical Clay Guida experience, involving fast paced action ranging from every possible angle in the octagon. Guida was very game and put up a good fight but Henderson was better on that night.
This fight promises to deliver since both guys are coming off losses. Falling 0-2 in the extremely competitive lightweight division is a nightmare for any fighters career.
I believe Maynard will try and take this fight to the ground since he was a NCAA Division 1 wrestler. On the other hand Guida might like it there since he has many wins by submission.  The biggest key in this fight will be the conditioning of Grey Maynard since that is what cost him in his last fight.  He punched himself out of it in the first round and Edgar took advantage of it.  Everyone knows that Guida has outstanding conditioning and will try to push the pace to get Maynard off his game.  I believe that Maynard will learn from his mistakes and will come in at outstanding shape.
Prediction: I believe that Maynard will control this fight. Guida will mount some offense and may have Maynard in a little bit of trouble.  In the end though, I believe Maynard will come out on top by TKO in the 3rd round.  Fight of the night is written all over this one. Whoever wins will be vaulted back up into title contention.
In the co-main event of the evening Spencer "The King" Fisher and Sam "Hands of Stone" Stout will meet for the third time in their careers.  Both men have each won a fight.  With Stout winning at UFC 58 by split decision and Fisher winning by unanimous decision at UFC Fight Night: Stout vs. Fisher.  This will be the first time each guy will have a full training camp to prepare for each other.  At UFC 58, Fisher replaced Kenny Florian while Stout accepted his next Fisher fight on very short notice.  Both men are coming off losses to Thaigo Tavares.  Fisher has the most too lose since he has dropped 4 out of his last 5 fights bouts.  He may need a win just to stay employed in the UFC at this point.
Prediction: With a full training camp for each guy and with Fisher's back against the wall, I believe that Fisher will find some way to win by split decision.  This fight also has a chance to be a fight of the night candidate.
The rest of the fight card will include:
Main Card
Brian Ebersole (49-14-1) vs. TJ Waldburger (15-6-0)
Ross Pearson (13-5-0) vs. Cub Swanson (16-5-0)
Fuel TV Preliminary Card
Hatsu Hioki (26-4-2) vs. Ricardo Lamas (11-2-0)
Ramsey Nijem (5-2-0) vs. CJ Keith (8-0-0)
Steven Siler (20-9-0) vs. Joey Gambino (9-0-0)
Matt Brown (14-11-0) vs. Luis Ramos (19-7-0)
Nick Catone (9-2-0) vs. Chris Camozzi (16-5-0)
Rick Story (13-5-0) vs. Brock Jardine (16-5-0)
Facebook Preliminary Card
Ricardo Funch (8-3-0) vs. Dan Miller (13-6-0)
Ken Stone (10-3-0) vs. Dustin Pague (11-5-0)