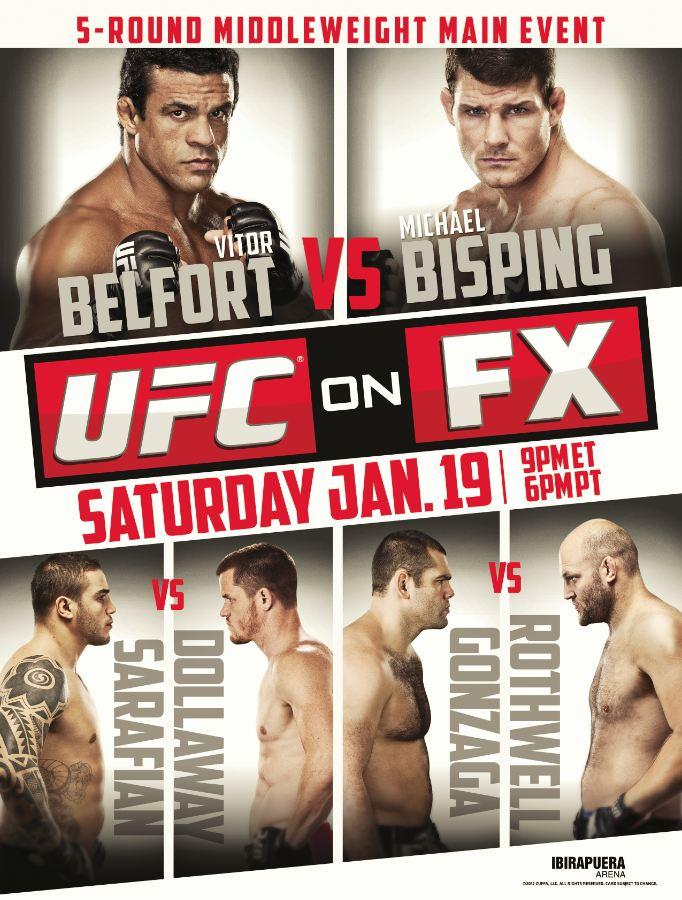 The main card for this UFC event is headlined with Vitor Belfort vs. Michael Bisping. There is a lot weighing on this fight. If Belfort is the victor, he will have successfully established a series of fights in the middle weight division to climb his way back to the number one contender spot.
However, if Bisping comes out on top, he is sure to have landed himself a spot against the reigning middle weight champion Anderson Silva. The rest of this card provides a great opportunity for Brazilian fighters to make a name for themselves in the UFC while giving them the advantage of being on their own turf.
Khabib Nurmagomedov is currently undefeated in his mixed martial arts career and on a two fight win streak inside the octagon. Thiago Tavares is currently on a two fight winning streak as well in the UFC and after an extensive career within the octagon, he has experienced his fair share of highs and lows since he's never being able to secure the three fight winning streak he needs to drive him up the light weight division.
This victory is a very important one for the veteran and the up and comer. Nurmagomedov's keys to victory are his striking and grappling, as Tavares keys to victory are his grappling and submissions. This fight is sure to push the pace as both fighters need this third win to propel them in the light weight division.
My prediction: Nurmagomedov controls the octagon using his striking and grappling to control Tavares en route to a unanimous decision victory.
Gabriel Gonzaga is trying to make a name for himself in the octagon again. He is remembered for his April 21, 2007, victory over Mirko Cro Cop with the head kick heard around the world.
That moment seemed to have people believing he was the future of the heavy weight division dismantling the legend in Cro Cop with his signature move. Following that victory, Gonzaga lost his title fight against Randy Couture and then put together a two fight victory only to be stopped by Shane Carwin in the first round of their bout. Since then Gonzaga has went 2-2 in the UFC, Gonzaga is looking to extend a winning record and work himself into the top tier of the heavy weight division once again.
Standing in his way is the hard-hitting heavy weight Ben Rothwell. Rothwell is no stranger to a winning record. In past organizations he has put together a six fight winning streak, one of them including a victory over the UFC Ultimate Fighter winner Roy Nelson. Now, Rothwell is looking to put together a string of victories inside the UFC and showcase himself among the greatest heavy weights the UFC has to offer. Gonzaga's key to victory is his unorthodox striking and submissions as Rothwell's key to victory is his power and size. The heavy weight division is a fan favorite due to it's "don't blink" knockouts. This is sure to be a fight for the fans.
My prediction: Rothwell will use his size and power to control Gonzaga and stop him in the second round TKO.
Daniel Sarafian is the UFC Ultimate Fighter: Brazil Season Finalist. Sarafian finished both his opponents once inside the house, adeptly securing his spot on the UFC 147 finale. However, Sarafian was unable to compete due to an injury.
Sarafian is riding a four fight winning streak in other organizations coming into this UFC co-main event. He is scheduled to face the Ultimate Fighter season 7 runner up CB Dollaway. Dollaway is looking to make a statement in regaining his position within the top ten of his division. He is working from a one fight win over former UFC competitor Jason Miller.
Before the Miller fight, Dollaway was hosting a two fight losing streak both coming by TKO and KO. Dollaway has put together a three fight winning streak inside the octagon in the past, but is yet to establish himself as a true contender in the middleweight division. Sarafian's keys to victory are his powerful striking and ground and pound techniques as Dollaway's keys to victory are his wrestling and submission skills. This is an interesting match-up since I believe the winner may establish himself worthy of being considered inside the top ten of the middle weight division.
My prediction: Sarafian overwhelms Dollaway and puts him away early with his explosiveness and powerful strikes winning by a TKO in the first round.
Vitor Belfort has secured himself as a dominate figure in the UFC middle weight division, even going up to the UFC light heavy weight division challenging Jon Jones for his title. Belfort had Jones in real danger with his early arm-bar attempt although Belfort fell short and was submitted by the champion in the fourth round by a kimura.
Belfort is holding a two fight victory in the middle weight division inside the octagon. He is looking to put together a three fight win streak and challenge the champion Anderson Silva for a second time for his middle weight belt. Michael Bisping has another agenda for this Saturday night. Bisping is on a tear since moving to the middle weight division, boasting a 9-3 record.
With this victory in the bag, it will secure Bisping as the clear number one contender and he may very well be the next challenger for face Anderson Silva. Since joining the UFC, Bisping has yet to fight for the gold and this fight is what he needs to drive him to the title.
Belfort's key to victory is the speed in his hands and submissions; whereas, Bisping's keys to victory are his well-rounded stand up and endurance. This fight holds a lot of pressure for both competitors as it will set up or redirect the middle weight division. You do not want to miss this fight.
My prediction: Bisping will use his stand up to avoid any flurries or one punch shots from Belfort and drag him into the later rounds while staying fresh as he hustles his way to a unanimous decision victory.
This UFC event is sure to please every fan no matter how hardcore they are. Regardless if you want to see a no-named fighter rise to the occasion or a brawl for blood between Bisping and Belfort, this card is sure to exceed your expectations.
Follow me on Twitter at @mmadocket and stay tuned on www.mma-freak.com for the latest MMA news.
Watch Jon Anik and Joe Rogan break down this Saturday night's main event fight in the video below.
Video courtesy of fuel tv