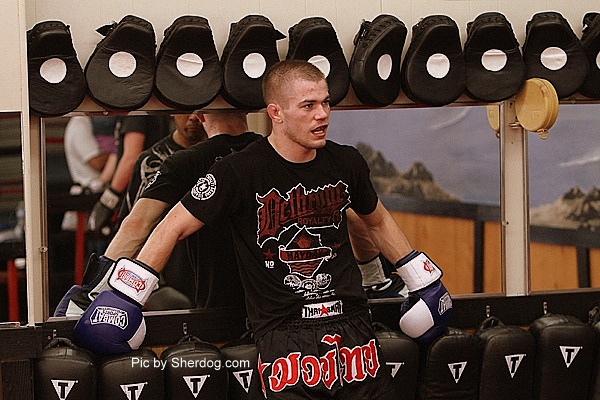 At the UFC 154 press conference UFC President Dana White mentioned he was considering a potential fight for the interim bantamweight title between champ Renan Barao (4-0 UFC) and Michael McDonald (4-0 UFC). The 21-year-old prospect went in for a surgical repair of his ailing right hand after a quick first round knock out of Miguel Torres at UFC 145 and says he is ready for whatever the UFC has to offer.
"I really stand by what I've said in previous interviews: I feel right now that I'm ready to fight anybody in the world. I really will accept whoever they put in front of me, no matter who it is. I feel like I'm ready, skill-wise, to take on anybody they put in front of me, and if that's who they're talking about, then that's cool."
With Dominick Cruz still sidelined, an interim title shot would make perfect sense right now. McDonald would be looking at an opportunity to make history as the youngest champion in UFC history, even if it would be as a interim title holder. McDonald is still young and a battle with Barao would be the young prospects biggest test to date. However, McDonald said he's studied the Brazilian in recent months and feels he's ready for the challenge.
"I don't study my opponents the same way a lot of people do," McDonald said. "A lot of people study their opponent to a T, and they customize their entire camp around that person. Then they basically customize themselves and their strategy and their tactics to their opponent. I do not. I don't like going away from myself and what has gotten me here. I think that more than anything I need to be me. That's what got me here so far. For instance, I'm not going to turn into a straight wrestler. If I need to supplement something for me, then that's fine, but bottom line is I'm a striker and a jiu-jitsu fighter, and I'm going to keep it the way I've kept every single fight. It's going to be the same story as ever, just with a few small details I see. To me, it's not even so much about customizing myself to an opponent. It's more on the lines of, 'Have I figured them out yet?'"
McDonald is considered a top prospect and a possible future UFC champion. Fans all around the world are still in high anticipation for a Cruz/Barao fight, but if the UFC calls McDonald he says he will take what they offer.
"First and foremost, I've been recovering from my surgery on my hand, which has been going great," McDonald said. "I'm training full-speed right now and getting ready for whatever the UFC calls me for."