The subject of women in mixed martial arts may be an old hat, yet in the last couple years the discussion has shifted to the conversation of women joining the UFC. Until lately, UFC President Dana White has said there simply aren't enough women currently competing at the upper levels of the sport to create a weight class within his promotion.
"There's finally money to be made," said Dana to SI.com recently. "It's obviously going to happen… could happen tomorrow, it could happen a year from now… The point is I'm committed to this."
Dana believes Ronda Rousey's stardom is making it possible for women in combat sports to transcend the former limits of their draw and finally join their male counterparts on the biggest stage in mixed martial arts.
As a promoter, Dana White is probably the best there has ever been. This is not only because of his ability to create a buzz and generate pay-per-view buys based off the efforts of one man, but it's also for another very important reason. That is his impeccable timing.
Watch the video below to see Dana White talk  with ESPN about his new thoughts on bringing WMMA to the UFC.

VIDEO COURTESY OF ESPN AND YOUTUBE UPLOADER pegsonwmma4..
What's changed then in the MMA world that would warrant these statements he made to the press? I believe two things are responsible for this.
One, the popularity of Invicta Fighting Championships, which as the first all-female fight league in North America, has been able to cultivate more than a few weight classes with varying levels of talent that is necessary to sustain healthy divisions and cultivate new talent.
The other change has happened recently which is the potential collapse of Strikeforce, due to injuries forcing the cancelation of two future fight cards scheduled on Showtime. Ronda Rousey is currently locked in to three more years on her Strikeforce contract, yet with the possibility of her promotion dissolving, it appears Dana White doesn't want to see her step out from under the Zuffa banner to join InvictaFC or any other organization at that.
Either way, the landscape of women's mixed martial arts (WMMA) is shifting and as long as money is to be made, look to see the UFC making moves like they usually do in an effort to harness the talent in their sport and maintain their goal of becoming the face of the sport in every facet for generations to come.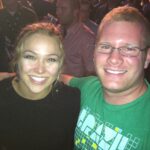 I was fortunate enough to have my picture taken with Ronda when the UFC visited my hometown in Minnesota recently.
I believe the UFC realizes people will pay to see her and others as the talent level and the sport of WMMA in general continues to evolve.
Yet whether I have to order a Strikeforce, InvictaFC, or UFC pay-per-view, I won't miss a Ronda Rousey fight in the near future.
By Gabe Keith ~ Senior Editor
Follow the FREAK on Facebook!