Machida poised over top middleweight contender Mark Munoz who he had just stunned and sent crashing to the canvas floor with a head kick. His left hand held Munoz firmly by the neck, while his right hovered feverishly in violent restraint as he knelt poised to strike Munoz again, while ref Leon Roberts rushed over, saving Munoz from further destruction and Machida from the pain of hurting his friend any more than necessary.
Lyoto "The Dragon" Machida is one of the biggest threats in the middleweight division now, but to analyze the possibilities that lie in his future, we have to revisit his past.
When Machida starched the undefeated and highly touted light heavyweight champion Rashad Evans at UFC 98 in 2009, he ran around the cage with his arms out, yelling with his fists clenched in a triumphant rage.
At that moment, UFC commentator Joe Rogan announced to the world, "Ladies and gentlemen, welcome to the Machida Era." Highly touted as the man who had been hit the least in the UFC, aided by the magic of his father's Karate style that had been adopted from Bruce Lee's style himself, he provided the sport with the biggest question mark to date.
Who can find a way to beat The Dragon? No one knew and at the time, everyone felt he was going to be around for a long time. Flash forward and The Dragon was able to defend his belt once against Shogun Rua before losing it to the same man who is currently barely hanging on as a light heavyweight contender at the moment, having recently defeated James Te Huna recently at UFN 33: Hunt vs Bigfoot, snapping a two fight losing streak against Alexander Gustafsson and Chael Sonnen.
Machida's next fight after relinquishing the belt to Shogun resulted in a controversial split decision loss to Rampage Jackson. After that he knocked out Randy Couture with a spectacular upkick that sent Captain America's front tooth flying in to the audience, effectively ending his career.
When Machida stepped in to the Octagon against light heavyweight champion Jon Jones, he was able to steal the first round from the young champion but then in the second, was infamously choked unconscious while standing, and then dropped unceremoniously in to the cage.
He wasn't done with title runs at 205 when he stormed back against the division's best once again by knocking out Ryan Bader at UFC on FOX 4 and then stealing a decision from Dan Henderson at UFC 157. He then went in to a fight against Phil Davis as the number one contender and heavily favored over the two at UFC 163.
But Machida would go on to drop a very controversial decision to Davis instead of maintaining his top spot in the division. A month prior, his team mate and former number one pound for pound fighter in the world in Anderson Silva had recently lost his belt to Chris Weidman at UFC 162.
Where both fighters had refused to step in to the other's world, Machida found himself staring directly at an opportunity among the middleweights, with no reason to stay at light heavyweight anymore, and without having to worry about stepping on his friend's toes now that Silva had relinquished control over the division.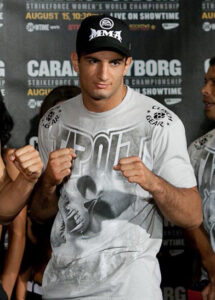 That's where we find him now, successfully having defeated Mark Munoz at UFN 30, staring down another dangerous new addition to the middleweight via light heavyweight origins in Gegard Mousasi at UFN 36, he's taking the most direct route to the belt in my opinion, albeit not the easiest.
Aside from dropping a decision loss to King Mo in 2010, he hasn't lost another fight since 2006. His highlights span from most of the big promotions over the years and the big names that fought in them, and his highlights promise brutality and punishment for anyone daring to step in to the cage with the former Dream and Strikeforce champion.
Let's say Machida storms past Mousasi. It's probably going to happen. Machida will be a huge step up in recent competition for Mousasi to begin with, plus he's more technical than most in the sport to boot.
Can Machida take the likes of Vitor Belfort, Ronaldo "Jacare" Souza, or the big question that floats around the MMA world from time to time, Chris Weidman himself? I think he will struggle against Weidman, but also provide the toughest test for anyone at the top right now.
Compare the lightheavyweights to the middleweights, and it's hard to believe anyone at 185 will be able put Machida through anything he hasn't seen before. Where the 185'rs have been dominated by one man these days, the light heavyweights have been a virtual fishbowl of piranahas for years. Sure Bones Jones has been shooting all these fish in a barrel these days, but that's only recently.
With a win against Mousasi, only Souza really has a similarly strong claim to the next shot once Belfort and Weidman settle business next. Let's evaluate a potential future matchup between Machida and Weidman.
Where Weidman has a staunch well rounded game that overwhelms everyone put in his past, Machida on the other hand has lightning speed that only looks even brighter since dropping weight. He jumps in and out with a quickness that has caught many opponents rushing in only to wake up on the ground moments later.
This one poses a lot of interesting questions that would prove a lot about whoever won and whoever lost as well. If anyone would prove a great heal for Weidman's championship story line, why not the good friend and fellow training partner of Anderson Silva himself?
I would love to see both men continue doing well in the division to be honest, but as long as both keep winning, one will eventually topple the other, and the fans will win regardless of the outcome.