One of my most memorable MMA moments that will forever have me obsessed with this beloved sport was the war between Mauricio "Shogun" Rua and Dan "Hendo" Henderson. Looking back on it, I regret not being a bigger fan of MMA to the point of buying this card in the first place.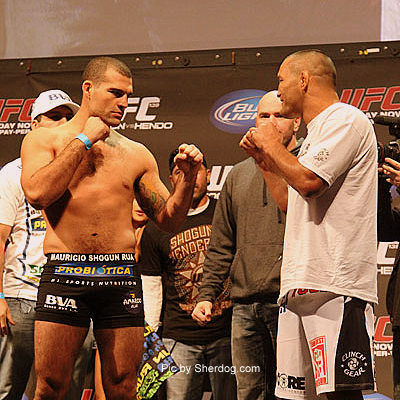 The entire fight card was spectacular and included many fantastic fighters such as Cung le, Wanderlei Silva, and Urijah Faber wasn't enough, we were lucky enough to have the sleeper fight of the year in Shogun vs. Hendo.
At first glance it may have seemed to be just another fight between two legends and former pride champions, but as you already know, it turned out to be so much more. From the opening bell this fight was freakish intense. In less than a minute in to the fight, we saw Shogun shoot for a takedown on the former Olympian in Henderson.
Even though it was stopped and Rua was bloodied viciously, the sheer heart that was shown in that round alone was what made shogun the legend he is today. Each minute of every opening round kept me on the edge of my seat. Whether it was Hendo firing off his "H-Bomb," that knocked out the likes of Michael Bisping and dismantled the legendary Fedor Emilianko in the past, or the fact that Shogun not only took the punch, but was barley slowed down by its full effect.
Three rounds into this fight, everyone watching including UFC President Dana White knew they were witnessing greatness and history in the making. It seemed where Hendo was slowing down, Shogun was only warming up.
Despite being a complete bloody mess with a malicious onslaught by Henderson, Rua managed to gain a second wind and preceded to score takedowns on Henderson and even at one point was able to secure full mount where he began showering Hendo with punch after punch. It looked like Rua could win this fight after all, until Henderson regained his defensive positions and fought off the onslaught of Shogun.
In the final two rounds it was obvious that both men were beyond exhausted, neither really being known for their lengthy battles. Joe Rogan even commented on the fact that Hendo had previously broken his hand in long fights where he threw punches as he had in this fight.
Regardless of their fatigue, however, both men raged on, still fighting back and forth. Rua seemed to have an upper hand in the final two rounds, despite hemorrhaging blood from cuts sustained earlier in the fight. All good things must come to an end unfortunately, and just as quickly as the fight started, it seem just as quickly to come to an end.
Since neither man allowed themselves to be defeated, the fight went to the judges' score cards. Even though all three judges scored the bout at a close 48-47 in favor of Dan Henderson, it is really hard to deny that the clear winners were the viewers of this fight. Dana White himself remarked that it was the greatest fight he had ever seen.
The fact that these two have had lengthy and extraordinary careers in the same organizations and this being their first fight is nothing but a crime! I don't know if this fight would have been nearly as good had they met in pride or if they had met earlier, yet maybe the stars were aligned just right.
Maybe it was the experiences that they had faced in both victory and defeat that made this fight so amazing. Whatever it may be, I was so very thankful to have witnessed this fight, and even though it wasn't live when I saw it, watching it over and over renews my love for this sport.
If you haven't seen this fight yet, I truly have to question your dedication to MMA, and I encourage you to watch it as soon as possible! It doesn't matter if neither man is your favorite fighter or any opinions you have of the two, this fight is too amazing to not see at least once.