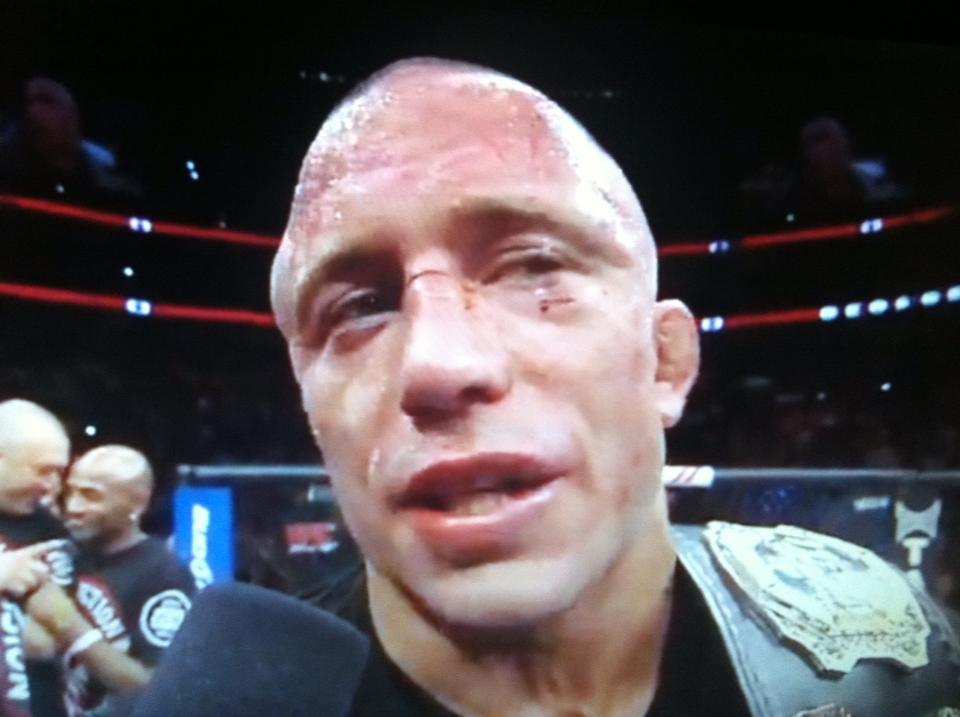 UFC 154, which took place this past Saturday, was a historic event that featured the return of Georges St. Pierre, the long reigning UFC Welterweight Champion. The Main Event featured St. Pierre, who had been out for 19 months; successfully defending his title against Carlos Condit in a fight of the night performance.
The fight was the usual dominating performance on the score cards for GSP, as he won a unanimous decision with scores of 49-46, 50-45, and 50-45. The only problem with those score cards is that they don't tell the whole story of what went down on Saturday night.
In the third round, Condit drilled GSP with a beautifully timed left head kick, dropping the champ in the process. GSP fans everywhere held their collective breaths as it appeared as though Condit was closing in on a shocking upset. That, of course was not to be, as GSP would survive that round, and ultimately take home the decision.
For the first time, in a long time, GSP looked like he had been in a fight. His face was swollen and bloodied up, and I think it is safe to say that this was GSP's toughest opponent to date. I realized that GSP has lost before, but those were relatively quick finishes, whereas this fight was a tough fight from beginning to end.
Watch the highlight of the kick that almost won the night for Condit in the video below.

Video courtesy of the UFC.
The Co Main Event lasted all of 46 seconds as Johny Hendricks blasted Martin Kampmann with a huge left hook, ending the fight in brutal fashion. With the win, Hendricks should be named the #1 contender for the Welterweight Championship.  In another featured fight, Francis Carmont was given a gift decision, as he was awarded a split decision over Tom Lawlor.
In other action, Rafael Dos Anjos looked phenomenal in methodically picking apart Mark Bocek. Dos Anjos won a very dominant unanimous decision. The opening fight of the pay per view featured Pablo Garza winning a unanimous decision against Mark Hominick; dropping the former title challenger to 0-4 in his last four fights.
I can keep talking non sense, but the purpose of this article is to create match-ups that everyone would want to see. So without further ado, I give you, Fighters Rendezvous: UFC 154 Main Card Edition.
Georges St. Pierre – As I mentioned earlier, the welterweight kingpin turned in an impressive performance even though he was coming back from a layoff of 19 months! St. Pierre controlled most of the fight except that third round scare, where he was nearly stopped. Next up for GSP should be a fight with another victorious fighter at UFC 154, and that fighter is Johny Hendricks. Georges is known for exploiting his opponent's weaknesses; let's see how he handles a fighter with no glaring weakness. Next up: vs. Johny Hendricks
Johny Hendricks – Someone give this man a title shot already. A 46 second knockout of Martin Kampmann preceded by victories over Mike Pierce, Jon Fitch, and Josh Koscheck; should be enough to get him his overdue title shot. What's even more impressive is that his fights with Fitch and Kampmann lasted a total of 58 seconds! No other fighter can make that claim. Give him GSP, NOW! Next up: vs. Georges St. Pierre
Francis Carmont – I'll admit it; I was on the Carmont hype train. I felt like he would run through Tom Lawlor. That didn't happen, as he arguably loss that fight. I suppose he was bound to have a bad performance, so it was good that it happened now and not down the line, when he might be closing in on a title shot. With Strikeforce closing shop, a fight with former Strikeforce Middleweight Champion Jacare Souza makes all the sense in the world. Next up: vs. Jacare Souza
Rafael Dos Anjos – Man was Dos Anjos impressive in his UFC 154 victory against Mark Bocek. He showed improved striking and a vastly improved take down defense. Rafael is quietly on a three fight winning streak, so a step-up in competition is in order. So for his next fight, Dos Anjos should take on Diego Sanchez; who will be making his highly anticipated return to the lightweight division. Next up: vs. Diego Sanchez
Pablo Garza – "The Scarecrow" desperately needed a victory at UFC 154, and that's just what he got. He weathered the first found storm against Mark Hominick before hurting Mark late in the first found. Garza would go on to dominate the 2nd and 3rd rounds, en route to a dominant unanimous decision victory. If I had my way, I would match up Garza with Diego Brandao; a fight that should provide some serious fireworks. Next up: vs. Diego Brandao
Carlos Condit – I know that I don't only speak for myself when I say that I was extremely impressed with Condit's performance on Saturday. Condit nearly pulled off a historic upset with his head kick that hurt the champion. Carlos is the kind of fighter that will learn from this, so a future rematch against GSP should be in everyone's mind. But first, let's settle some unfinished business; give me Condit vs. Diaz 2. Let's see what everyone says when Condit defeats Diaz……………………Again! Next up: vs. Nick Diaz