The lightweight division is stacked with tough competition, and now it seems like we have a log jam. Anthony Pettis was scheduled to defend he newly crowned UFC lightweight title against number one contender T.J. Grant.
Grant was injured, pulled out of the fight, and was replaced by Josh Thomson. Previously Thomson returned to the UFC against Nate Diaz where he proved he still has what it takes to make a run at the championship after he defeated Diaz via head kick knock out.
Thomson is now scheduled to face former UFC lightweight champion Ben Henderson at UFC on fox 10 in January. Nate Diaz returned last week in stylish fashion and finished Gary Maynard in the first round. Fans and some UFC reps have made their case for a Pettis/Diaz fight. Plus, you can't forget about the man that I believe should be the next challenger at 155 lbs, Gilbert Melendez.
Pettis is one of the most exciting fighters in all mma, but he seems to be heavily injury prone. Pettis is a flashy kicker with constant knee problems. So how long will he last?
Pettis needs to fight the best competition out there right now, while also receiving fights that the fans want. Pettis' name will always be a UFC legacy, but how many fights does he really have left? The big question is, who should be next for "Showtime?"
~ Winner of Benson Henderson/Josh Thomson ~
Josh Thomson is 3-2 in his last 5, last win over Nate Diaz. Benson Henderson 4-1 in his last 5, last fight was a loss to Anthony Pettis.
Benson Henderson would love a rematch and another chance to avenge his Pettis losses. With a solid win over Thomson, he could get his wish. On the other hand, Thomson had a title shot and chose not to wait around for Pettis to heal up. Thomson has all the tools to give Pettis and Bendo a good fight. This will be a decent match-up for both men (Thomson/Bendo), but I don't think either one should be next for Anthony Pettis.
~ T.J. Grant ~
Grant is 5-0 in his last 5 and has already earned the number one contender spot to face the UFC's lightweight champion. His injuries seem to be holding him back. Now, that Pettis is injured, why is Grant not next? Grant has earned his shot and should be next for Pettis, especially since Pettis was the one who stepped in for Grant.
Will this fight sell? Will Pettis run right through him? I'm not sure, but I am sick and tired of guys like Grant and Lamas having to wait forever for something they earned just because it's "not marketable."
Grant and Pettis might not sell as much as Pettis vs. Melendez or Pettis vs. Diaz, but Grant has earned this fight. If him and Pettis are healthy at the same time, then I hope Grant gets what he has earned.
~ Nate Diaz ~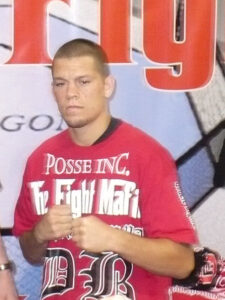 Diaz is 3-2 in his last 5, with a title loss. Diaz returned against Gray Maynard in nasty fashion and made sure that the UFC lightweight locker room was on notice. That being said, Diaz vs. Pettis makes no sense. Yeah, it would sell, but in no way should Diaz leapfrog anybody ahead of him.
He claimed at his post fight interview that he was the best in the division. He can't even beat Bendo or Thomson, so how does this make you the best? Just because you beat a washed up Gray Maynard, doesn't put you next in line for a title shot in my opinion. Diaz is top 10, but that's it.
~ Gilbert Melendez ~
"El Nino" is 4-1 in his last 5 with a split decision title loss to Benson Henderson where some believe that that Melendez won. I already said above that I believe Gilbert should be next in line. If Grant isn't ready, then Melendez is hands down the best completion for Pettis as of right now.
Some believe that Melendez is the uncrowned UFC lightweight champion. I still think that he beat Bendo, and after his war with Diego Sanchez, how is Gilbert not next? Nate Diaz was kind of right when he said they (himself and Gilbert) are the best in the division.
Diaz doesn't want anything to do with Melendez, and I don't blame him. Pettis needs to be challenged by somebody with a well-rounded game, and Melendez fits the bill. If Grant isn't healthy, then sign Melendez up.