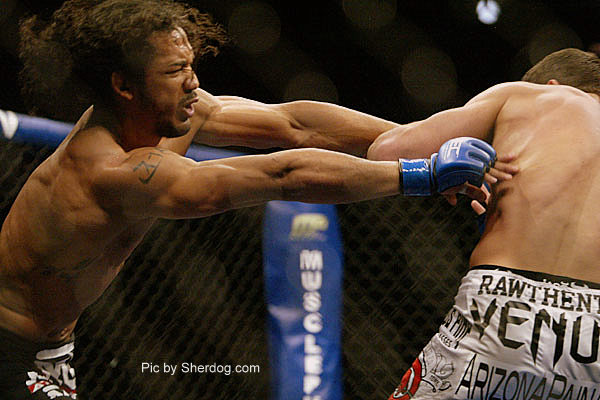 UFC on Fox 5 this past Saturday was an extremely successful and exciting event. Highlighted by the second defense of Ben Henderson's lightweight title; this event was one of my all-time favorites. The reigning lightweight champion showed why he should be considered a top five pound for pound fighter.
He imposed his game plan and his will on Nate Diaz; winning a decisive unanimous decision in the process. The Co Main-Event featured a passing of the torch as Alexander Gustafsson won a clear cut unanimous decision over Shogun Rua. Gus mixed in some takedowns with his efficient striking and kept Shogun at bay for most of the fight.
Speaking of a passing of the torch; the second fight of the main card featured Rory Macdonald putting a beating on B.J. Penn. Rory bruised and battered the former two division champion for all three rounds; winning a dominant unanimous decision. Leading off the night was Matt Brown scoring an impressive knockout over Mike Swick. Brown put Swick in bad situations throughout the first round; before knocking him out in the second round.
~Here is a quick recap of the undercard fights~ 
Yves Edwards defeated Jeremy Stephens by KO.
Rafael Assuncao defeated Mike Easton by UD.
Ramsey Nijem defeated Joe Proctor by UD.
Daron Cruickshank defeated Henry Martinez by KO.
Abel Trujillo defeated Marcus LeVesseur by TKO.
Dennis Siver defeated Nam Phan by UD.
Scott Jorgensen defeated John Albert by Submission.
 ~UFC on FOX 5 post fight highlights~
UFC on Fox 5 featured many memorable moments, but now it's time to move on and figure out what's next for the UFC on Fox 5 fighters. So, without further ado, I give you, Izzy's Input: What's next for the UFC on Fox 5 winners.
Benson Henderson – What a performance turned in by the lightweight champion! Bendo was able to do any and everything that he wanted against challenger Nate Diaz. We saw different aspects of Ben's game as he utilized punches to the thigh, to setup up hitting Nate right on the grill. Going into this fight, most people thought that Diaz had the advantage on the feet and on the ground. That couldn't have been more wrong, as Ben dropped Nate a couple of times and won the exchanges on the ground; punishing Nate with some efficient ground and pound. In the aftermath of this event, I've heard people calling for Gilbert Melendez to get the next shot at Ben; but to that I say, not so fast. The upcoming fight between Anthony Pettis (who holds a victory over Ben) and Donald Cerrone (who has lost twice to Henderson) should give us the next challenger as long as Pettis wins the fight.
~Next Up: vs. Anthony Pettis, if he gets past Donald Cerrone~
Alexander Gustafsson – Gustafsson's fight against Shogun went exactly how I thought it would. His win over the pride legend is a testament to how good Gus is, and how far Shogun has fallen. But we'll focus on the positive for now. Gus showed us how good he can be when he is able to implement his game plan. He also showed why we should start taking him seriously as a future contender for the light heavyweight title. Although he is not there yet, he has shown a tremendous improvement since suffering his only setback against Phil Davis. Gus battered Shogun for the better part of three rounds and was rewarded with a unanimous decision. It was announced by Dana White that Dan Henderson might not be ready for his February fight with Lyoto Machida. This could mean that Gus might step in to fight Machida in a number one contender fight. Gustafsson vs. Machida would serve as an excellent co headliner for the UFC 157: Rousey vs. Carmouche event.
~Next Up: vs. Lyoto Machida~
Rory Macdonald – "Ares" turned in possibly the most impressive performance of his young career. He said that he wanted to destroy B.J. Penn, and destroy him is what he did. We later found out that Penn was taken to the hospital for observation. Macdonald ripped Penn with vicious shots to the body and nearly stopped the former two division champ in the second round. Many fans took exception with Macdonald's "showboating". I for one did not. That was the most personality we've seen from the young phenom. Although it wasn't the most ideal thing to see from him, I don't see it as a sign of disrespect. My good friend Matt mentioned that those who took exception with what Rory did, are the same fans that cheer for the Diaz brothers when they engage in outrageous behavior. Needless to say, I agree. Rory mentioned that he wanted a rematch with Carlos Condit, a man that "embarrassed" him when they last met. I'm not one to mess with a good matchup, so I'm all for seeing this one again.
~Next Up: vs. Carlos Condit~
Matt Brown – I've got to tell you, I simply cannot get a good enough read on Matt Brown. Is this the same fighter that at one point lost four of five fights; all by submission? Do my eyes deceive me; is he really on a four fight winning streak? Matt Brown has been extremely inconsistent in his UFC career, but it appears as though he is starting to develop some form of consistency; winning his last four fights impressively. Brown controlled the entire fight against Mike Swick before ending the fight with a beautiful combination that put Swick out. A rematch of a fight that took place four years ago against Dong Hyun Kim would be a very interesting fight given the fact that Kim won a close split decision in that fight.
~Other fights to make~
Yves Edwards vs. Gleison Tibau
Rafael Assuncao vs. Scott Jorgensen
Ramsey Nijem vs. Takanori Gomi
Daron Cruickshank vs. Tony Ferguson
Abel Trujillo vs. Michael Chiesa
Dennis Siver vs. Cub Swanson
Bonus: B.J. Penn and Shogun Rua in a tag match against retirement. Before anyone gets mad at me, let me explain. I happen to believe that both Penn and Rua can still compete, just not at the level that is needed to be considered a contender. As a fan of both, I'd rather see both of these legends retire rather than play a gatekeeper role. They deserve better than that, and so do we as fans.
Hear Dana White's thoughts on the UFC on FOX event the moment it ended in the interview below.
Video courtesy of FuelTV, mmafighting.com, and the UFC.