Performance enhancing drugs have always been a problem in sports. Most recently, Alistair Overeem has brought the issue back in to the spotlight in MMA. His eptistosterone/testosterone levels were significantly higher than the standard allowed. Just look at the before and after picture below and decide for yourself if a man could legitimately get from point A to point B in less than a few years.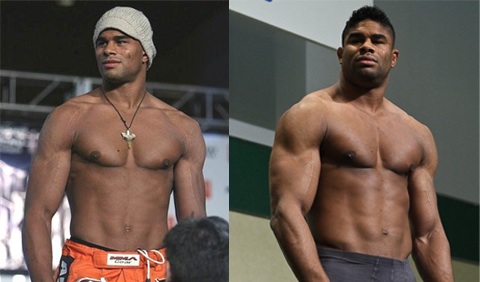 I used to think steroids were a black and white issue that the sanctioning body would punish swiftly. I also used to believe that those who were caught would be held accountable. This would then maintain a certain amount of balance. I don't know when it happened, but at some point testosterone replacement therapy reared its ugly head and turned a simple problem in to a complex and controversial issue. Ironically, Junior Dos Santos was always going to fight someone on steroids at UFC 146. Frank Mir who replaced Overeem was  legally taking synthetic testosterone before the fight. I can't overlook the seriousness of his car accident he suffered in the past though, maybe an argument could be made for his situation I guess.
"I understand Chael is still following the law. But is the law fair to Anderson Silva?"
Let's take a look at Chael Sonnen's situation. He was busted for steroids in his system after the Anderson Silva fight. He claimed later that he had been approved for testosterone replacement therapy yet never accounted for it on medical forms or documents obtained by the UFC before or after his contracted fights. He was recently granted a therapeutic use exception (TUE) to receive testosterone replacement therapy (TRT). How convenient! Almost like someone getting diagnosed for basic medication, except this medication gives an athlete a physical edge over their opponent. I understand Chael is still following the law. But is the law fair to Anderson Silva? He will be heading into the fight as an older athlete without the aid of synthetic testosterone.
This issues became crystal clear to me when I heard that Alistair Overeem's team allegedly stated that their fighter would have been within the regulated epistosterone/testosterone levels if he had been tested a couple days later than when the Nevada Athletic Commission administered the tests. That is where the problem lies. It sat in front of us the whole time.
The athletic commission wouldn't be able to regulate steroid use even if they called it testosterone replacement therapy and allowed it under what is called a therapeutic use exception. Overeem was going to use steroids for as long as possible and then gradually cycle down in order to reach the legal testosterone limit. Before UFC 146 in an interview with Ariel Helwani from Mmafighting, Roy Nelson stated that fighters are probably taking steroids and cycling off before fight night all the time. That means it was illegal and not really being monitored to begin with.
Chael Sonnen is now allowed to use steroids. He will be in charge of regulating the amount he uses to insure he doesn't take more than the amount he was prescribed. If anyone has ever heard anything Chael has said over time, he has made it clear he will do whatever it takes to win. I don't think it is unreasonable to assume he will be pushing the limit on the rules with his TUE and I hope Anderson Silva's natural abilities won't be trumped by Chael's manufactured ones.
These situations are infuriating to some fans, me included. Others don't really care. Regardless, I bet more regulation is coming to the sport of MMA. Eventually, fighters will see the damage that getting caught with illegal substances in their bodies will have on their career, legacy, and bank account. The fighters that do find legal ways to take these substances will probably continue to win and impact the sport in dramatic ways. At this point, all we can do is treat them like the New York Yankees and hope they lose every unfair and bought championship they get to.
Watch this video from the Inside MMA Show on HDNet. Then tell me that all these cases of young men who are at the peak of their physical and mental state really require medical exemptions to take steroids before fights. After watching the video I started to wonder why young men in their prime all of a sudden feel the need to raise their testosterone levels. If it's really because they are hurting in some way, then why do they have the capability at performing at the highest level in the sport?

VIDEO COURTESY OF HDNetFights..