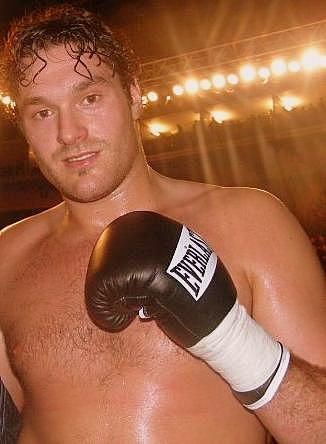 Recently a challenge was made by undefeated boxer Tyson Fury and newly crowned UFC heavyweight champ Cain Velasquez. Now I'm not a big boxing fan, so my view may be somewhat biased on this issue, but after research into Fury's history and record, I have to say this may not be a smart move on his part.
Maybe before Cain lost his title to Junior Dos Santos in their first fight I'd say "ok, let this guy take a page out of James Toney's playbook and get beat down," but after Cain's fights with both Antonio "Bigfoot" Silva and his rematch with Junior, I am not so afraid of just a wrestling beat down like Toney received, but more in fear of a vicious, bloody beating that Cain has shown he's more than capable of handing out.
Sure, Fury is undefeated… in boxing, and I am not discounting the athleticism that boxers possess. Look at the Klitschko brothers. These guys are scary good and I have no doubt they could handle a few fights in the UFC. Mike Tyson even made a run in K1, and even though it didn't pan out completely, he did try.
What I'm trying to say is that their is room for boxers in MMA, but to call out the dominating champion for your first bout because you can't get a title fight in your own sport is reckless and potentially dangerous. I'm sure Fury is capable of making the transfer, with a record like he has and looking up his fights; he has the size and talent to possibly make a good fighter at the lower levels of MMA.
My main concern is for the well-being of this rather cocky individual. Cain just came off of some very violent and dominating wins over arguably 2 top 5 talents in the UFC. Junior Dos Santos had beaten a who's who of talent ranging from Fabricio Werdum to Frank Mir, and Bigfoot had dominated the legendary Fedor.
These two were worthy of fighting Cain, but in the end he showed exactly what he was capable of when healthy and motivated. I sincerely hope Dana doesn't make this fight, not because Fury doesn't deserve a good beating, but because with the growing rate of brain damage in combat sports, he cannot willingly add another name to the list of those with brain disorders.
Perhaps I'm wrong and Fury is better than I am assuming, and could hold his own in the UFC, but I do know for certain what Cain Velasquez can do, and even though I am a fan of two people beating each other up for entertainment, there must be a line between entertainment and a sanctioned injuring of another fighter. To put Tyson Fury in a ring or a cage against Cain Velasquez is dangerous and reckless, and should not be done for the reputation and well-being of both sports.