It's Patriot Day and while the events of twelve years ago brought about tragedy, it also brought about some positive change and patriotism in people. The following list is of people who have shown in their actions their love for this wonderful country. Only criteria is American patriots:
10. Josh Koscheck
Josh Koscheck makes it on the list for one action he made. At UFC: Fight for the Troops, Koscheck knocked out Yoshiyuki Yoshida in the main event. The whole event was broadcast on a military base and doubled as a fund raiser for the Intrepid Fallen Heroes Fund.
Right after the fight, Koscheck announced he was donating his shorts and gloves for the fundraising effort. Considering he didn't have to, it was a patriotic move.
9. Brandon Vera
Brandon Vera hasn't exactly come in waving an American flag or donating things to a noble cause (publicly anyways). However, he did serve in the US military. After attending Old Dominion University for a year and a half on a wrestling scholarship, Vera felt college wasn't for him.
He then decided to forgo college and enlisted in the Air Force. He spent most of his time at the Olympic Training Center, and while his service was cut short because of a medical discharge, he still made the effort to serve his country.
8. Luigi Fioravanti
He may not be in any major promotions right now but Luigi Fioravanti has shown patriotism. Before he started a professional MMA career, Fioravanti was a promising wrestler in high school. However, rather then pursue it, he joined the Marines and participated in Operation Iraqi Freedom in 2003.
It was actually his training in the marines that helped prepare him for a MMA career. After his service he started his professional MMA career.
7. Liz Carmouche
The only woman on this list, Liz Carmouche makes it on this list because of her military service. The Marines is a tough service for any man but the term "The Few and the Proud" definitely applies to women who make it into this branch of the military. Carmouche served five years in the Marines and served three tours in the middle east.
Openly gay now, Carmouche kept her sexual orientation secret because of the "don't ask, don't tell" policy under the Bush Administration. She now bears the distinction of being the only openly gay fighter on the UFC roster.
6. Dave Kaplan
While Dave Kaplan hasn't fought in MMA since 2010, he is still notable for the unique distinction that qualifies him for this list. Kaplan wrestled through high school and because of it, went to Old Dominion University.
Some college wrestlers will go into the working world and some give MMA a try. Kaplan however, went into the CIA as a recruiter and analyst. He resigned that job to go into MMA but it is still a unique service.
5. Tito Ortiz
Tito Ortiz is known for many unsportsman like antics in MMA. He constantly smack talks, does the grave digger whenever he wins, and wears controversial shirts. On top of that he has a tendency to constantly have an up and down relationship with former porn star Jenna Jameson.
However, if there is one thing he constantly does correctly, its coming in with an American flag on his shoulder. Even though he also comes in with a Mexican flag and it's more about his heritage, it does show patriotism and he should be acknowledged for it.
4. Don Frye
Don Frye makes it onto this list because of his response to the September 11 attacks in 2001. After winning the UFC 8 and UU 96 Tournaments, Frye stepped away from MMA and participated in New Japan Pro Wrestling for a few years. However, after the September 11 attacks, Frye returned to MMA thirteen days later in patriotic fashion.
Frye walked out to his Pride 16 fight with Gilbert Yvel waving an American flag and wearing a shirt that said "Terrorists Suck." Unfortunately while Frye won, the fight was controversial because of Yvel's antics.
3. Randy Couture
There is a reason why one of Randy Couture's ring names is Captain America. Couture wrestled in middle and high school but rather than pursue a career in wrestling, Couture enlisted in the US Army. It was there he further developed his skills in wrestling and developed his boxing foundation as well.
During his six years of military service, Couture made it as high as Sergeant while serving in the 101st Airborne. In 1988 he was discharged, but his patriotism only continued as he wrestled for the US and became a successful representative in MMA.
2. Tim Kennedy
Tim Kennedy is best known for competing in professional MMA while still being active duty in the US Army. While that is impressive in and of itself, it's even more impressive considering he was an Army Ranger while doing it. After graduating with a degree in criminal justice from Columbia College of Missouri, Tim Kennedy chose to join the US Army rather than continue his already established career in MMA.
During that time he served in the Green Beret, participated in the Army Combatives tournament, winning it three times, and served in the Army Rangers as a sniper. While in the Rangers he participated in Operation Iraqi Freedom and Operation Enduring Freedom and was awarded the Bronze Star.
1. Brian Stann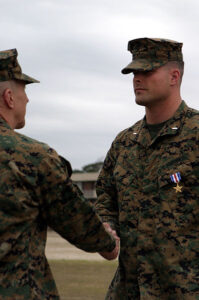 Without a doubt, Brian Stann has earned the ring name "All American." Stann basically spent his childhood in a military household as he was born on Yokota Airbase, Japan then went to school at Scranton Preparatory School in Scranton, Pennsylvania. After that he attended and graduated from the Naval Academy then joined the Marines and got as far as Captain.
A true testament to his valor and Marine valor in general, Stann's unit was ambushed during Operation Matador (Iraq War) and they held out for six days until relief arrived with all forty two soldiers surviving. For his leadership in that situation, Stann was awarded the Silver Star and the highest position on this countdown for his patriotism.
I would like to take this moment to thank all Patriots for their love of this country and I would like to especially thank our veterans for keeping us safe and making our safety and lives possible. Please leave a comment.