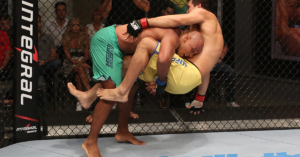 TUF: Brazil 3 – Episode 10
The episode opens with Team Sonnen's Marcos Rogerio and Team Silva's Jollyson Francisco preparing for their upcoming fight, the last quarterfinal bout. During a Team Sonnen training session, the fighters encourage coach Hortencia Marcari to spend some time in the ice bath. She proceeds to do a circuit the guys are participating in and briefly she and head coach Chael Sonnen do some swing dancing before she actually does sit in the ice bath. She sits in the bath for five minutes and during that time starts to go cross eyed. After getting out she goes into the sauna to warm up and hug Sonnen.
After both fighters make weight no problem, the fight takes place and the first round is close but goes in favor of Rogerio. The second round for the most part is one sided and there are points toward the end when it is questioned why it wasn't stopped. All three judges score it in favor of Rogerio. Both coaches then meet with Dana White and the semifinalists and all discuss what the semifinal match ups should be. The semifinal match ups are announced as Wagner Gomes vs. Warlley Alves, Ricardo Abreu vs. Marcio Junior at middleweight, then Antonio Carlos Junior vs. Marcos Rogerio, and Richardson Moreira vs. Vitor Miranda at heavyweight.
TUF 19: Episode 5 – Too Salty
During training, coach BJ Penn talked about how the fighters need to make sure not to over train. Shortly after all the fighters proceed to celebrate Halloween in the house and are at one point visited by coach Frankie Edgar which also involves some fighters dressed in drag. The next day Team Edgar goes on a hike up to Mount Charleston. During a conversation in the house, Team Penn's Roger Zapata comments that wrestling is "simple" egging on fighter Corey Anderson. Anderson then mentions his introduction to MMA through Ben Askren.
The weigh ins goes no problem as both men make the light heavyweight limit. The match then takes place and consists of Anderson taking down Josh Clark constantly. Round two is more one sided then round one with Anderson imposing ground and pound on Clark constantly. Ultimately it is scored a majority decision in favor of Anderson who would like to be the one to pull an upset. With Team Edgar in control, Edgar decides to match up his team's Ian Stephens against Team Penn's Roger Zapata.