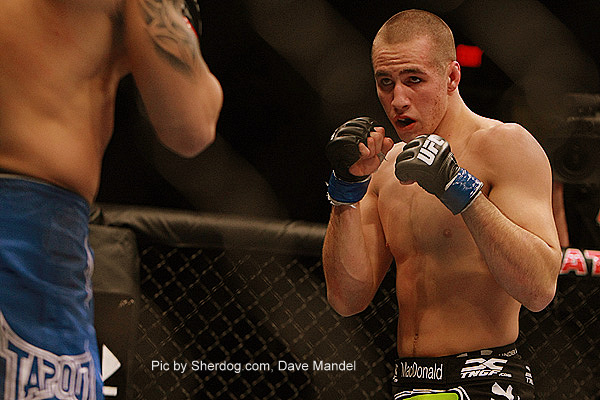 Rory MacDonald has finally arrived in the UFC after his dominant performance over a dwindling B.J. Penn, but some spectators are still not sold on him do to his show-boating attitude during/after the fight. The young Canadian is still just that, a young, slightly immature fighter.
That being said, I disagree with how everyone has perceived Rory since his UFC on Fox 5 showdown. I have always been a Penn fan and have been watching him boast and lick blood off his gloves for some time now. So, to sit there and question Rory for doing a little Muhammad Ali dance is ludicrous in my opinion.
I believe if you're a top contender or fighter, then you have the right to enjoy yourself. I mean come on, Bendo was basically trying to give Diaz a dead-leg in their fight. Fans think MacDonald was being disrespectful, but it's okay when Anderson Silva does it against Maia, Leites, and Griffin? We all know Rory is no Silva, but he takes his job very seriously, trains hard and if he wants to do a little dance at the end of a 3 round beating, then he should be given the right.
The best part about it is, MacDonald doesn't care what the fans and spectators think. So does that make him a cocky fighter or just confident? I believe it builds his confident. He already walks around like he is the number one contender or GSP's predecessor if GSP suffers an accident or loss. I would love to see GSP move up to 185 so Rory could have 170 all to himself. B.J. Penn used to beat you up verbally during the fight and show-boat. He was just as confident, not cocky.
As far as MacDonald calling out Condit after the fight and not acknowledging the fact he just fought a legend, I still don't think he is too cocky. Fans were very upset with how Rory acted after the fight, but how many times would Penn whoop some ass, then ignore Joe or just tell you to go on B.J Penn.com as he left the octagon?
He did this all the time. Some were saying that "Ares" could be the new "Prodigy" in place of Penn and I agree. MacDonald actually reminds me a lot of a young Penn. When Penn was younger like Rory, he talked the talk and walked the walk and was100% into his career as an MMA fighter.
That's where Rory is right now in his career. Saying that a guy like MacDonald who trains hard, has personal goals, and does everything he says he is going to do is being too cocky, is like saying that Ben Henderson is too cocky. If you look at the make-up of the UFC and MMA now a days, it seems like only the ones who take it seriously (being confident) are the ones who make it to the top (GSP,Bendo, Silva, Cruz, Barao, MacDonald ect.) ,and I don't blame them.
Watch Rory talk about his win against BJ Penn and his intent on fighting Condit next in the video below.
Video courtesy of KarynBryant.