With the Olympic decision of wrestling and the location of the 2020 Olympics coming up tomorrow, I felt it is important to list the top Olympians who have crossed over into MMA, either temporarily or permanently. Just to clarify, this article will list ALL Olympians, regardless of sport.
Also the Olympians are listed based on their accomplishments in the Olympics such as medal counts and medal color, not accomplishments in MMA. Also Olympic alternates and qualifiers who didn't compete don't qualify for the list, but they do qualify for this honorable mention list:
~ Honorable Mention ~
Don Frye-qualified in freestyle and Greco-Roman wrestling at an Olympic qualifier event in 1987, never competed.
Chael Sonnen-was a Greco-Roman wrestling alternate for the 2000 Sydney Summer Olympics Games.
Dan Severn-Olympic wrestling alternate for the 1984 Los Angeles Summer Olympic Games and the 1988 Seoul Summer Olympic Games.
Randy Couture-Olympic wrestling alternate for the 1988 Seoul Olympic Games, 1992 Barcelona Olympic Games, and 1996 Atlanta Olympics.
Herschel Walker-competed in the 1992 Winter Olympic Games in the two men bobsledding event.
Hector Lombard-competed in the 2004 Athens Summer Olympic Games in judo.
Rick Hawn-competed in the 2004 Athens Summer Olympic Games in judo.
Steve Mocco-competed in the 2008 Beijing Summer Olympic Games in freestyle wrestling.
Ben Askren-competed in the 2008 Beijing Summer Olympic Games in freestyle wrestling.
Mark Coleman-competed in the 1992 Atlanta Summer Olympic Games in freestyle wrestling.
Daniel Cormier-competed in the 2004 Athens Summer Olympics in wrestling, qualified for 2008 Games but didn't compete due to kidney failure.
Dan Henderson-competed in the 1992 Barcelona Summer Olympic Games and 1996 Summer Olympics Games in Greco-Roman wrestling.
Enough of the Honorable Mentions, now onto the main list. Other criteria are that ties based on medal types will happen. Here we go:
10. Ronda Rousey/Randi Miller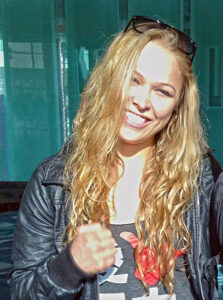 Both of these women are tied for the tenth place spot because of the single medal color they accomplished in their respective sports. Ronda Rousey earned the bronze medal in judo at the 2008 Beijing Summer Olympics, becoming the first woman from the US to medal in the Olympics in judo in the process.
She transitioned to MMA soon after, rising quickly to become the face of women's MMA and the first UFC Women's Bantamweight Champion. Randi Miller earned the bronze medal at Beijing as well but in freestyle wrestling. However, she tried to qualify for 2012 London Games as well and as a result, didn't make her transition to MMA until the inaugural Invicta FC fight card.
9. Matt Lindland/Naoya Ogawa
Both these men were a win away from the gold, but they came about those paths in very different ways. Matt Lindland initially lost his Olympic birth in a match that he appealed in court accusing his opponent of tripping him (not allowed in Greco-Roman wrestling). The court ruled in his favor and Lindland won in a rematch, earning his nickname "The Law," and allowing Lindland to win the silver medal at Sidney.
Naoya Ogawa on the other hand, won the silver medal in Barcelona Summer Olympics in 1992 and competed in the Atlanta Games in 1996, both in judo. He was then recruited by Japanese pro-wrestling and MMA legend Antonio Inoki and competing in pro-wrestling before transitioning to MMA for PRIDE.
8. Sara McMann
Sara McMann is a part of Olympic history. The former wrestler was a part of the first women's Olympic wrestling tournament in the 2004 Athens Games. There she became the first American woman to gain an Olympic Silver medal.
She continued to wrestle for another few years but failed to qualify for the 2008 Beijing Olympic Games. The next year she became a mother and in 2011 she transitioned to MMA, eventually moving to the UFC two months after the first women's bout, and is still undefeated, looking to eventually earn a title shot with champion Ronda Rousey.
7. Stephen Abas
Stephen Abas is a rare case of a wrestler who was able to attain success at both the Olympic and college wrestling levels. After becoming a four time NCAA D1 All-American and three time champion for the late Fresno State University wrestling program, Abas went onto compete in the 2004 Athens Summer Olympic Games.
There, he attained a silver medal then tried to compete at the Beijing Games, but lost to eventual gold medalist Henry Cejudo. Two years after the Beijing Games, he made the transition to MMA in 2010 fighting for Tachi Palace Fights at TPF 4 and 5, winning both times. However, he hasn't fought since then, so the question of, could he fulfill his potential, has yet to be seen.
6. Satoshi Ishii/ Ray Mercer
Both of these men have tasted the sweetness of Olympic Gold and went for something more. Satoshi Ishii won the Olympic Gold Medal at the 2008 Beijing Summer Olympic Games in judo. After that he amassed a record of 9-2-1 in MMA but has expressed that he would still like to train in judo and perhaps make a run for the 2016 Rio Games.
Ray Mercer won the gold medal in the 1988 Seoul Summer Olympic Games in boxing before going into a professional career in the sport. Towards the end of his boxing career he started to dabble into kickboxing (K-1 specifically) then tried MMA, officially going 1-0 with a win against Tim Sylvia and an exhibition match which he lost against Kimbo Slice.
5. Henry Cejudo/Mohammad Ali
Both of these men have accomplished things few people have done. Henry Cejudo became the youngest American at age 21 to win an Olympic Gold Medal when he earned it at the 2008 Beijing Games and tried to but failed to qualify for the 2012 London Games. He has most notably since then fought in the Gladiator Challenge promotion and other regional shows, going 4-0 with no sign of his rising in MMA prominence stopping.
Born Cassius Clay, Jr. Mohammad Ali won the Olympic Gold Medal at the 1960 Summer Olympic Games in Rome before going onto having a professional career in boxing and becoming the only three time lineal heavyweight boxing champion. His only MMA match took place during his boxing career in a match between himself and Japanese pro-wrestling and MMA legend Antonio Inoki, the result of which was a draw.
4. Hidehiko Yoshida
Hidehiko Yoshida is in some ways a prototype for Satoshi Ishii to look onto when it comes to judoku MMA careers. Yoshida won his only gold medal in the 1992 Barcelona Olympic Games in what was a dominating performance. He would go onto compete for another eight years in both the 1996 Atlanta Games, and the 2000 Sidney Games, but never obtaining another medal.
It was two years after his retirement from judo that Yoshida went into the Pride Fighting Championships. He would go on have a successful career before calling it quits in 2010.
3. Karam Gaber
Everyone on the list from this point on has won multiple medals and gets their own spot on the list. The first of these elite multi-medalists is Karam Gaber. Hailing from Egypt, Gaber became only the second Gold Medalist in Greco-Roman wrestling for Egypt, when he successfully won the gold in the 2004 Athens Olympics (setting records in the process).
It was later that year that he made his only go at MMA in a match against Kazuyuki Fujita which he lost via knockout. After that he went back to Greco-Roman, competing in the 2008 Beijing Games but failing to medal and again in the 2012 London Games, where he attained the silver medal.
2. Rulon Gardner
Even though he competed in fewer Olympic games on this list than some of the aforementioned Olympians, Rulon Gardner makes it on this list because of what he was able to accomplish under the circumstances he had. Gardner won his first gold medal at the 2000 Sidney Games by upsetting probably one of the greatest wrestlers of all time, Aleksandr Karelin.
He then went onto win the World Championships the next year, becoming the only American Greco-Roman wrestler to win both an Olympic Gold Medal, and a world title. Then despite loosing his big toe to frostbite and having his write dislocated in a motorcycle accident, Gardner game back and was able to win the bronze medal at the 2004 Athens Games before calling it a career. He then had his only MMA match in Pride later that year against Hidehiko Yoshida, winning by decision.
1. Aleksandr Karelin
If there is any Olympian that deserves to be on this list it's Aleksandr Karelin. Karelin is arguably the greatest wrestler of all time and definitely considered the great Greco-Roman wrestler of all time. Over his wrestling career, Karelin won three Olympic Gold Medals, one silver, and nine world titles on non Olympic years.
The only reason whey Karelin didn't win a fourth gold medal is because he was stopped by the aforementioned Rulon Gardner. Karelin's only foray into MMA took place under the Rings banner against Akira Maeda in 1999 which he won.
Agree with this list? Leave a comment!