It's back to school season and in honor of the occasion, I've decided to list the educational accomplishments of the top ten most educated fighters in MMA. Just to list the criteria, the fighters are ranked based on their degrees, rather than their accomplishments in MMA. With that, here we go:
10. Fedor Emelianenko
Arguably the greatest MMA fighter of all time, "The Last Emperor" as he is known, also has an educational background to match his accomplishments inside the sport. Emelianenko graduated high school in 1991 and then went onto graduate from a professional trade school in 1994 with honors.
He did go onto get a degree in Physical Education from Belgorod State University, but not until 2008. The degree however is prestigious considering Belgorod is the oldest university in Russia. It has also qualified him for his retirement life as a member of the Council of Physical Fitness and Sports and the President of the Russian MMA Union, both posts he's held since 2012.
9. Chael Sonnen
Chael Sonnen's educational experience comes from his early days as a wrestler which earned him a scholarship to the late University of Oregon wrestling program. At Oregon, Sonnen became a three time NCAA D1 All-American and a two time finalist. He was successful academically as he graduated from Oregon with a Bachelor of Science in Sociology.
This degree may have come in handy during his 2010 political campaign for the Oregon House of Representatives. With all that education however, it is unknown how he developed his tendency to overly smack talk.
8. Justin Edwards
Justin Edwards is an example of a football player not having to be a heavyweight, in order to get a scholarship in college. Edwards who fights at welterweight in the UFC, received a football scholarship to Urbana University after graduating from Madison High School.
He went on to receive a Bachelor of Science Degree in Criminal Justice. His experience in wrestling would later come in handy for his MMA career. It still has yet to be seen how his degree will come in handy.
7. Josh Koscheck
An original member of the Ultimate Fighter, Koscheck also has a good educational background to go along with his fight record. Koscheck received an athletic scholarship at Edinboro University after a successful high school wrestling career at Waynesburg Central High School.
During his time at Edinboro he became a four time NCAA D1 All-American, as well as winning the championships his junior year and also being a two time finalist. He graduated with a Bachelor's Degree in Criminal Justice. Before his time on TUF, he was a wrestling coach.
6. Mark Munoz
Mark Munoz is a part of wrestling history in his own right. Munoz was a two time California State Wrestling Champion for Vallejo High School. He went onto get an athletic scholarship at the legendary Oklahoma State wrestling program.
It was there that he made history as a two time All-American and the first Filipino American D1 National Champion. He was also a four time Big 12 All-Academic squad member, a three time NWCA All-Academic team member, and received a Bachelor of Science in Health Science.
5. Chuck Liddell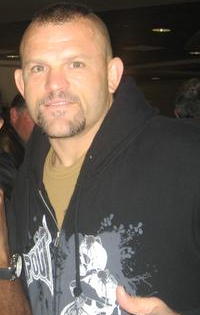 Despite his cold and sometimes awkward behavior, Chuck Liddell is rather accomplished in academia. After a successful wrestling career at San Marcos High School, Liddell received an athletic scholarship at Cal Poly San Luis Obispo. At Cal Poly he actually double majored and received a Bachelor of Arts in Accounting and Business.
This degree actually helped him in his business ventures as a bar and store owner. It also helped in his retirement years when he took the position of Vice President of Business Development in the UFC.
4. Shane Carwin
Shane Carwin's educational experience is rather impressive considering that he was able to apply it to life while fighting in the UFC. Carwin received a Bachelor's Degree from the Colorado School of Mines and a Bachelor's Degree in Environmental Science from Western State University.
It was also during his college years that he was a three time NCAA D2 finalist, a one time champion, and at Western State was a two time football All-American. After his college years he went on to become an engineer. The crazy thing though is that he continued his career as an engineer, while fighting in the UFC, and still is one today.
3. Takeya Mizugaki
Before he fought in the WEC and eventually the UFC, Takeya Mizugaki made a name for himself fighting in the Shooto and Cage Force promotions in Japan. However, before that he attended Kanto Gakuin University.
It was there he received a degree not too many people get, a Master's Degree in Electrical Engineering. It has yet to be seen how he'll apply it as he continues his MMA career. Time will tell.
2. Rich Franklin
Rich Franklin is definitely one that comes to mind when it comes to MMA and back to school. Franklin graduated from William Henry Harrison High School then went on to earn a Bachelor's Degree in Mathematics.
He then went on to earn a Master's Degree at the same college as his bachelor's, the University of Cincinnati. However, his connection to education didn't stop there. Before he went into MMA full time he was a math teacher at Oaks Hills High School.
1. Rosi Sexton
Rosi Sexton could be considered an overachiever in terms of academia. In academics she attended the all-girls Kendrick School in Reading, then went onto get first degrees in Mathematics at Trinity College, Cambridge and the University of Cambridge. Then she went onto Manchester University and got something people in the MMA industry rarely get (or need); a PhD.
That's right, officially she's known as Doctor Rosi Sexton. Then after all that she received a degree in Osteopathy from Oxford Brookes University then decided to do MMA full time and is now in the UFC!
Find out somethings about these fighters you didn't know before? Let me know. Leave a comment!