On September 10, 2006 Saitama Super Arena, in Saitama, Japan, hosts yet another Pride Fighting Championships event.
This evening Pride FC presents the finale of it's seventh grand prix tournament; The last such tournament the organization would host before it's acquisition by Zuffa Entertainment.
In many ways tonight's fights are emblematic of Pride FC's reputation for brutal violence in it's matches.
The final four participants in the open weight tournament are as follows:
A former Pride Heavyweight Champion, an ex-UFC Heavyweight Champion, a perpetual Heavyweight contender, and the promotions top two-O-fiver (referred to as Middleweight in Pride). All set to contend for the Open Weight Grand Prix crown this evening.
The preliminary bouts do have their fair share of fireworks with Aleksander Emelianenko, Fedor's younger brother, besting Sergei Kharitonov in a come from behind victory with a controversial stoppage.
As well as a brutal soccer kick/stomp knockout of kickboxing journeymen Cyrille Diabate by former UFC Light Heavyweight king and 2005 Pride FC Middleweight Grand Prix winner Mauricio Rua.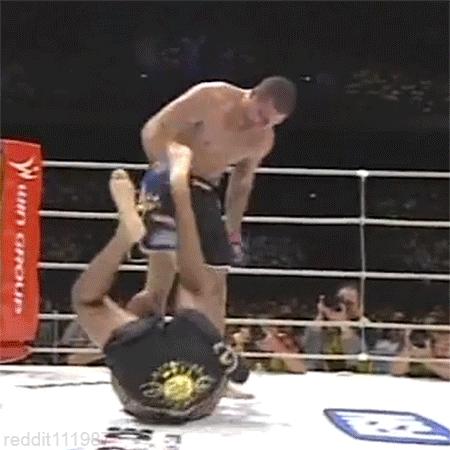 Brazilian grappling technician Ricardo Arona mops the floor with future Heavyweight behemoth Alistair Overeem in the evenings final prelim match up, submitting the Dutchman with strikes in just under five minutes.
The three bouts to follow were comprised of Grand Prix participants solely, with the semifinals and finals matches taking place all this evening. Two fighters will fight twice tonight.
First up are Mirko Crocop and Wanderlei Silva. They had met in 2002 in a K1/Pride FC co-promotion event with modified mixed martial arts rules in a match that proved to be a drag all the way to a boring draw.
Tonight's match proves a much different story. Wanderlei is out from his corner aggressive and Crocop makes him pay the price for doing so almost immediately. A beautifully timed straight left from the Croat southpaw puts the Chute-Boxe icon on his butt.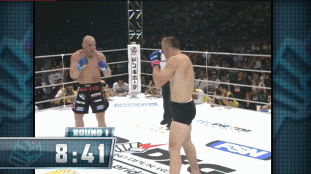 The Axe Murderer find his way back to his feet and is laid out once again. This time for good and in spectacular fashion by Mirko Filipovic's infamous head kick.
In just over five minutes Mirko solidifies his spot in the tournament finals and takes almost no damage in his rout of Silva.
The second semifinal match finds Josh Barnett fighting Antonio Noguiera to a hard fought split decision victory, advancing into the championship bout along side the Croatian striker.
After a short break, both men are back in the ring for the last bout of the evening.
Barnett tries his luck striking but is exhausted from his fifteen minute semifinal fight. Crocop looks fresh after a long rest. Filipovic pushes the pace and controls the match the entire time, stalking Barnett throughout.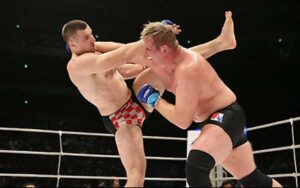 Finally, after stumbling onto his back in a scramble with Filipovic, Barnett is left defenseless and gassed on the canvas on the receiving end of crushing ground and pound by Crocop, Barnett taps out at 7:32 of the first round.
With this victory Mirko Crocop wins his only gold ever in any major mixed martial arts organization and cements his place in mixed martial arts Heavyweight history.
Check out other MMA History posts here, here, here, here, and here.