UFC 165 is not just another UFC PPV event coming to Toronto,ON Canada. Although being the fourth event in the city and the third straight to not only be held in September, but also the Air Canada Center, UFC 165 contains elements for either championship streaks on the line to end, or continue stronger than before.
With seven fighters on the main card alone carrying a five fight or more winning / unbeaten streak, there is just more than a winner and loser to be named after the final fight has finished. Two men who stand out the most to me on this card who have more to lose than anyone else, is the current champions being premiered in the evenings co-main and main event championship fights.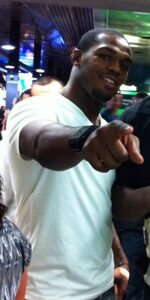 Two titles are on the line, as Jon Jones looks to defend his light-heavyweight championship, and the current interim bantamweight champion Renan Barao looks to stay on top of the mountain while waiting for the return of Dominic Cruz.
Both Jones and Barao carry very impressive winning streaks coming into Toronto, so to say the title is the only thing on the line would be a lie.
Jon Jones(18-1) has only tasted defeat once, and basically cost himself the fight he was dominating over Matt Hamill. An illegal elbow came down crashing into Hamill's face while Jones was on top. Unfortunately Hamill wasn't able to continue and since the blow was considered illegal, he was granted the win.
Although controlling the fight up until that point in the first round, Jones was disqualified. Since his loss to Hamill, Jones has been nothing short of perfect, dominating the light-heavyweight division by defeating five former champions along the way. Shogun Rua, Quinton Jackson, Lyoto Machida, Rashad Evans, and Vitor Belfort.
One more win will also break the record for the most consecutive title defenses in the division, which was set by Tito Ortiz, and now tied with Jones's latest win over Chael Sonnen.
Barao has also only lost one professional mixed martial arts fight in his career, as in his debut back in 2005, saw him suffer a unanimous decision loss. This is the last time anyone has seen the man lose. Only one other time has he not won a fight. Currently (30-1-0)(1) and seven of those wins coming inside a Zuffa organization, I'm more than sure Barao has more than just, 'defending his title,' on his mind, but also keeping his legacy building with his winning ways.
Recently since the injury that forced champion Dominic Cruz out of action and unable to defend his title against Barao, Renan has stepped up and certainly has made the bantamweight division more than competitive and very much so has kept the titles prestige value.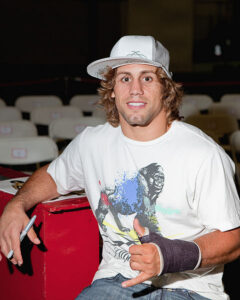 Urijah Faber was the first to fall when fighting Renan for the interim championship. Faber has been a fan favorite and top name at 145lbs, as well as 135lbs. An impressive showing which helped everyone understand just how talented the young Brazilian really was. We would have to wait for his next title defense as there was uncertainty in the division on who had earned their shot.
A peppy fighter coming out of California by the name of Michael McDonald(16-2) had earned his spot next after compiling up his own winning streak of four straight in the UFC and eight in total. Although being a major threat on paper in some eyes, McDonald was unable to dethrone Barao.
As both Jones and Barao approach UFC 165, will just the championship and their opponent be on their mind? Will the current terror both of these men are on come to a halting end with what many might call an upset victory? How about the challengers? How sweet would it be for Alexander Gustafsson or Eddie Wineland to be the one to not only take the title away, but snap the unheard of streaks both champions possess?
Notable mentions for their winning streaks heading into UFC 165: Costa Phillippou(five fight winning streak), Francis Carmont(ten fight wining streak), Pat Healy(seven fight unbeaten streak), Khabib Nurmagonmedov(twenty fight win streak), Myles Jury(twelve fight win streak), Chris Clements(six fight unbeaten streak), Dustin Kimura(ten fight win streak), Jesse Ronson(eight fight win streak), Daniel Omielańczuk(eleven fight win streak).