Everyone thought when they watched Jon Jones rise out of the ashes and into the Phoenix that he became, that he would be the next classy champ to run the 205 division for a long time.
Instead of following in the foot steps of the last real/classy light heavyweight champion Chuck Liddell, Jones seems to be following in the foot steps of the last un-classy light heavyweight champion in Tito Ortiz. The sad part is that Jones and Tito don't even respect each other, probably because they are so much alike.
Whether you like Jones or not, we all can expect him to be on top of the 205 division for a long time. Tito still holds the record for most consistent time as the champion holding the title for 1,260 days from April 2000 to November 2002 with 5 title defenses before losing respect for the company that made his career and basically walking out because he didn't want to fight "so called" friend Chuck Liddell at the time for little money.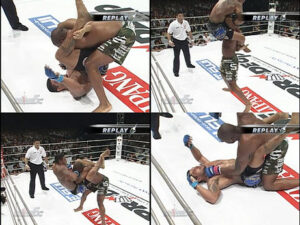 After a few years of fighting for his company, Liddell captured the UFC light heavyweight title and held the championship for 770 days from April 2005 to December of 2006 with four title defenses. In that time, Liddell rarely trashed talked and cleaned out the division before the arrival of Rampage Jackson. Since Liddell's title reign, there has been six light heavyweight champions including Jon Jones.
The 205 division has only had a total of 12 champions in history and we could use another guy with a great attitude, company spirit, and loving attention for the fans like Chuck "The Iceman" Liddell gave us all. Jones is still young and I believe doesn't understand the company aspect yet. Maybe Liddell knew more having the man that runs the show as his manager in Dana White, but Jones could learn a lot from a humble guy like Liddell.
I used to be fan of Tito's back in the day before his true colors came out, and the same could be said about Jones. Machida was the last guy I saw respecting the 205 division but his title reign was shortly lived.
Jones has the capability of being a humble fighter, but until then, I would love to see a guy like Glover Teixeira (who trains with John Hackleman at the Pit) beat Rampage and maybe a Shogun or Machida and earn a shot at Jones and knock him off his high horse. Teixeira is the new "Iceman" in the UFC and I can't wait to see a humble fighter at top of the light heavyweight division once again until Jones can learn from his mistakes.
These opinions reflect mine and no one else's.