April 25, 2004 Pride FC hosts Pride Total Elimination 2004 in Saitama Super Arena in Saitama, Japan.  Featuring a card comprised solely of matches of Pride FC's 2004 Heavyweight Grand Prix opening round. It's first and only ever Heavyweight Grand Prix.
This is the promotions third GP, an open weight (non-existent today) and Middleweight tournament having preceded it.
Pride Grand Prix's are yearly tournaments competed within a designated weight class. After the bracket was announced, Pride events over the course of the year would feature fights from the tourney, resulting in eliminations, and culminating in the crowning of a Pride Grand Prix Champion.
The GP is an annual championship title that exists in parallel to Pride's current weight division champion. It never happened, but a division champion participating in a Grand Prix and losing in a fight would not have to relinquish his title.
All Heavyweight's on the card means Pride FC has it's top fighters in the division on display in a single night.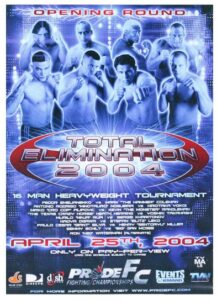 The card includes Prides Heavyweight Champion Fedor Emelianenko, ex-Pride Heavyweight Champion Antonio "Big Nog" Noguiera, Mirko "Cro Cop" Filipovic- with only a single loss in Pride at the time,  ex-UFC Heavyweight Champion Mark "The Hammer" Coleman, K-1 juggernaut and ex-Pancrase royalty Semmy Schilt, relative unknown Sergei Kharitonov, and Japanese Pro-Wrestler Naoya Ogawa a midst others.
Eight Heavyweight bouts and not a single fight on the card decided by the judges. The longest bout clocking in at just over the five minute mark; Pride featured 10 minute first rounds.
The night's second fight featured Sergei Kharitinov and his utter destruction of an over matched Murilo Rua, brother of former UFC Light Heavyweight Champion Mauricio "Shogun" Rua.
This evening also featured a defining moment in Mirko CroCop's career. Defeated for only the second time in a Pride ring at the hands of "The Monster" Kevin Randleman. The Croatian striker, heavily favored against the American freestyle-wrestler going into the bout, was obliterated with a lunging left hook by Randleman after a feinted a double-leg.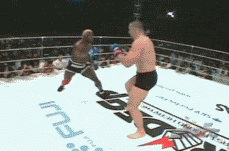 Once on the mat, not able to close enough space between him and Randleman, Filipovic is met with furious hammer-fists that leave him unconscious. This derails the possibility of a dream finals match between CroCop and Fedor, who's yet to compete this evening.
The card was headlined by a bout featuring the aforementioned Heavyweight Champion Fedor Emelianenko and Mark Coleman. Coleman the surprise victor of Pride's first Grand Prix in 2000, an open weight tournament.
Coleman starts the bout off promisingly enough, staves off Fedor's initial swarm of blows and takes the Russian to the canvas with a hip toss in a show of brute force. The Hammer holds down Fedor. And both men scoot against the corner of the ring scrambling for position. For a brief moment Coleman takes full mount but Fedor turns his back almost immediately.
Coleman, after looking for a rear-naked choke, begins to pepper Fedor with blows. Fedor uses this as an opportunity to explode out of Coleman's body-lock and Emelianenko transitions into a guillotine choke. After threatening a single leg, Coleman is able to pop his head out from under Fedor's arm.
What follows is no more pleasant for the Hammer than being in the Russians grip, as he's pummeled against the ropes with a left, right, left, right, left punching combination followed by a knee to the cranium.  Coleman is able to catch Fedor's leg and lift him completely off the ground. After briefly grabbing the ropes, Fedor is asked not to by the referee.
Coleman again takes down Fedor and delivers some lazy ground and pound while in Emelianenko's guard. Fedor grabs a hold of Coleman's left arm slaps on an unbelievably smooth armbar from underneath. The Hammer has no choice but to tap out.
A submission win by Pride FC's Heavyweight Champion capped off a night of finishes on a card with nothing but elite Big Men. 16 fighters whittled down to 8, with Antonio Rodrigo Noguiera, Heath Herring, Semmy Schilt, Naoya Ogawa, and Paulo Cesar Silva all advancing along with the aforementioned victors. The Pride FC 2004 Heavyweight Grand Prix would continue at Critical Countdown 2004 in June 2004.
Fights to Make Post UFC on Fox 15