UFC 31: Locked and Loaded (the poster reads Fully Loaded) takes place at the Trump Taj Mahal in Atlantic City, New Jersey on May 4, 2001.
The card has the curious distinction of featuring 7 fighters who would hold UFC titles in their careers, the most on any card up until Locked and Loaded.
Heavyweight Champion Randy Couture faced off with Pedro Rizzo in the main event in his first title defense in the UFC.
Employing what will become his typical greco-roman wrestling based strategy, The Natural nullifies Rizzo's (pronounced Hizzo) heavy-handed vale tudo kickboxing. Couture will use this clinch and dirty-box technique to great affect throughout his hall of fame career.
The night also features another title bout in the Welterweight division. The combatants: UFC Welterweight Champion Pat Miletich and Carlos Newton.
In round three while on the mat Miletich scrambles out from underneath Newton. Newton attempts to take the Croatian Sensation's back, going for a rear-naked choke. Instead Miletich whips Newton off of him but the challengers grip is too tight. Newton lands in front of and next to Miletich, maintaining the choke, and tightens his grip.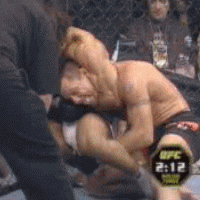 The champion has no choice but to tap and loses his title via submission by bulldog choke, a submission that wouldn't be seen in the UFC ever again. With this Carlos Newton has the distinction of being the first ever Canadian UFC Champion.
The undercard would feature it's fair share of highlight reel KO's including Chuck Liddell welcoming Kevin Randleman to the Light Heavyweight division,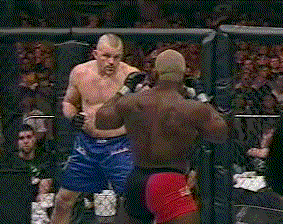 Shonie Carter's legendary spinning back fist knockout of Matt "The Terra'" Serra,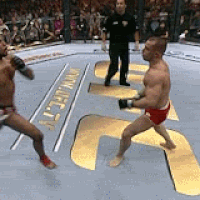 and perhaps the most painful of all, Semmy Schilt demolishing Pete Williams with a ruthless body kick. Sorry there's no gif provided but take my word for it.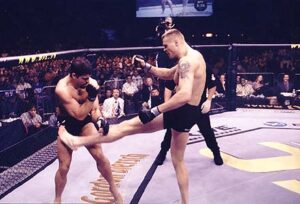 Future Welterweight and Lightweight Champion BJ Penn would make his MMA debut this night and leave his mark taking a TKO victory against Joey Gilbert in a prelim match up.
On Cinco de Mayo weekend in 2001, The Garden State was treated to an excellent fight card with title bouts and a variety of finishes featuring many future Mixed Martial Arts legends.
The latest Today in MMA History post can be found here.
If you don't hate video games check this out over on The News Hub.