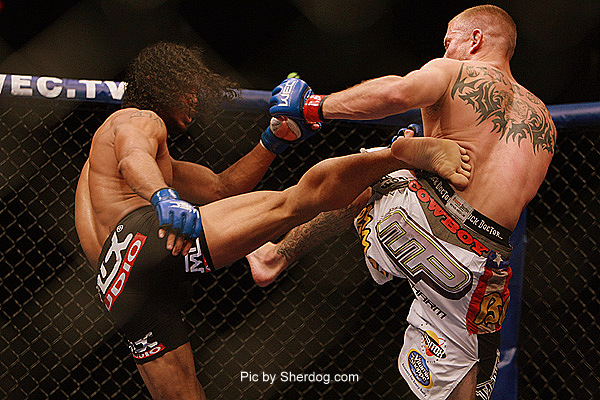 Alright fans, this is what you all have been waiting for. I have always been a huge mma fan and am a big admirer of almost all of the mma organizations in the world. I am one of the biggest WEC (World of Extreme Cage Fighting) fans as well, and still miss it now a days even though half of the fighters are fighting for the UFC. A lot of my fans that know me, know that I'm a huge WEC fan and still watch old fights all the time.
My fans want to hear who I think the best WEC fighters of all time are, but I'm going to do you guys one better. We all know that the WEC built their brand on the back of Urijah Faber. He will always be the former face of the WEC, but I don't want to talk about the best of the WEC, I want to talk about the top fighters in the UFC that came from the WEC during the merger. I think naming the best that the WEC had, and naming who has done the best since the brands have been combined, are in two different leagues. So without further ado, these are my top 10 fighters who came from the WEC, who I think have made the biggest impact in the UFC.
10. Joseph Benavidez
It's not Faber, yet it's another top fighter from Team Alpha Male. Benavidez is 4-1 in his last 5 fights and 3-1 in the UFC suffering his last lost to Demetrious Johnson recently at UFC 152. Benavidez went 5-2 in the WEC with his only two losses coming by the hands of Dominick Cruz. Benavidez fought twice at bantamweight in the UFC before entering their flyweight tournament. Benavidez and Ian McCall have been rumored/linked into fighting each other as soon as McCall recovers from his injury. Key UFC Wins: Ian Loveland, Eddie Wineland and Yasuhiro Urushitani. Key UFC Losses: Demetrious Johnson
9. Chad Mendes
Faber got denied again. This time it's another top prospect out of T.A.M. Mendes has made a name for himself since entering the UFC with a record of 3-1. He has also worked his way to the top of the division and fought Jose Aldo for the featherweight title at UFC 142. Mendes went 4-0 in the WEC before joining the UFC and is currently ranked the #3 featherweight in the world by Sherdog. Mendes is expected to face Hacran Dias on December 15, 2012 at UFC on FX 6. Key UFC Wins: Michihiro Omigawa and Rani Yahya. Key UFC Losses: Jose Aldo (featherweight title shot)
8. Chael Sonnen
This list wouldn't be complete without "The American Gangster". Even though Sonnen's UFC debut was an embarrassment, he has went onto being one of the newer faces and voices for the UFC. Sonnen went 2-1 in the WEC feuding with Paulo Filho. Since entering the UFC, Sonnen has went 5-3 with two middleweight title shots against Anderson Silva. Now, the biggest mouth in UFC has talked his way into the coaching job for TUF 17 opposite Jon Jones and has secured a light heavyweight title shot after the show has concluded. Key UFC Wins: Dan Miller, Yushin Okami, Nate Marquardt, Brian Stann and Michael Bisping. Key UFC Losses: Demian Maia, Anderson Silva (twice, middleweight title defences)
7. Renan Barão
Renan Barão is currently riding one of the longest unbeaten streaks in MMA history with 30 straight fights without a loss. As of August 2012, Barão is ranked the #2 bantamweight fighter in the world by Sherdog. He is the current Interim UFC Bantamweight Champion. Barao was only 2-0 in the WEC before entering the UFC, but he is on everyone's radar and his first round destruction of Brad Pickett at UFC 138 put everyone on notice in the division. Barao's biggest win of his career came at UFC 149 when he defeated former top contender Urijah Faber for the interim bantamweight championship. Barao and current champion Dominick Cruz are expected to fight as soon as Cruz recovers from his knee injury. Key UFC Wins: Cole Escovedo, Brad Pickett, Scott Jorgensen, and Urijah Faber. No Key Losses
6. Donald Cerrone
"Cowboy" Cerrone is one of the most exciting fighters to watch and was one of the best that the WEC ever saw. Cerrone went 6-3-1 (two losses to Benson Henderson) in the WEC before putting the UFC on notice at UFC 126. Cerrone fought 5 times for the UFC in 2011 going 4-1 with 4 post fight awards. Since his loss to Nate Diaz at UFC 141, he has won 2 in a row going 6-1 in the UFC. Cerrone has 3 FOTN, 1 submission and 3 knock out of the night awards in the UFC. Cerrone has been calling out Anthony Pettis for some time and is expected to face "Showtime" on January 26, 2013 at UFC on Fox 6. Key UFC Wins: Paul Kelly, Charles Oliveira, Vagner Rocha, Dennis Siver, Jeremy Stephens and Melvin Guillard. Key UFC Losses: Nate Diaz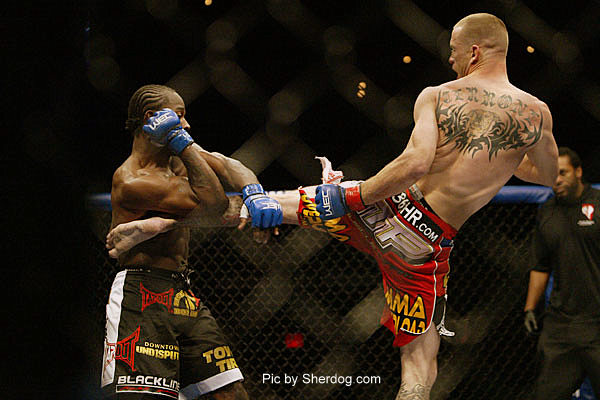 5. Demetrious Johnson
"Mighty Mouse" is one of the fastest fighters in the lighter weight-classes and put the bantamweight division on notice at UFC 126 when he defeated top name Norifumi" Kid" Yamamoto. Johnson went 2-1 in the WEC, since then he has went 4-1-1 since joining the UFC. Johnson went 2-1 in the UFC's bantamweight division before entering the flyweight tourney. He then was caught in a controversial draw against Ian McCall. Johnson redeemed himself and defeated "Uncle Creepy" in the semi-finals to advance to the finals against Joseph Benavidez where he became the first inaugural UFC Flyweight Champion. Johnson is now expected to face John Dodson on a later date in what will mark the first time the UFC Flyweight title has ever been defended. Key UFC Wins: Norifumi Yamamoto, Miguel Torres, Ian McCall and Joseph Benavidez. Key UFC Losses: Dominick Cruz (bantamweight title)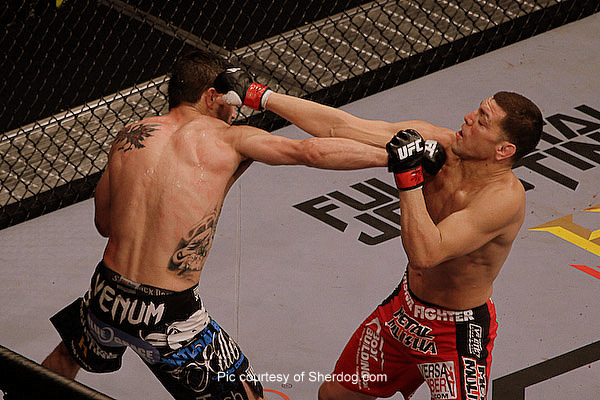 "The Natural Born Killer" was one of the best fighters the WEC ever witnessed in the cage and he lived up to his nickname going 5-0 in the WEC with 5 finishes. Condit beat John Alessio (one of my favorite WEC fights) in his second WEC fight to capture the vacant WEC welterweight championship and successfully defended it three times before entering the UFC. The UFC put Condit in the main event and he loss his UFC debut via split decision to Martin Kampmann, even though it was a close call. Personally I still had Condit winning that fight on my score-card. Condit has since won 5 in a row in the UFC (two knock out of the night awards) capturing the Interim Welterweight title at UFC 143 back in February. Condit is ready to put all the doubters to rest this Saturday when he takes on one of the best pound-for- pound fighters in the world in GSP for the Welterweight title at UFC 154. Key UFC Wins: Jake Ellenberger, Rory MacDonald, Dan Hardy, Kim Dong-Hyun, and Nick Diaz. Key UFC Losses: Martin Kampmann
3. Dominick Cruz
Dominick Cruz is a very misunderstood fighter, but I think he is one of the best and is very underrated. Cruz is so fast, has the best feints in my opinion, and is one of the best overall mma fighters in the world. Cruz made his WEC debut against Urijah Faber for the featherweight championship. I mean how good to you have to be to make your debut for a title shot? Cruz was 9-0 by the time he was 21 years old before he lost his debut. Cruz went and fought for another organization for one fight before returning to the WEC. Upon his return, "The Dominator" returned to the WEC as a bantamweight and went 4-0 (beating Ian McCall and Joseph Benavidez) before defeating Brian Bowles for the WEC bantamweight championship. Cruz defended his title one time under the WEC banner before defeating Scott Jorgensen for the inaugural UFC bantamweight title. Cruz hasn't loss since his only loss to Faber in 2007. He has went 2-0 in the UFC, has been TUF 16 coach and was expected to face Urijah Faber is a anticipated rematch before he hurt his knee. Cruz is expected to defend his title against Interim Champ Renan Barao upon his return. Key UFC Wins: Urijah Faber, Demetrious Johnson. No Key Losses
2. José Aldo
Aldo is one of the best pound-for-pound fighters the mma world has ever seen and some believe he is a fighter that just can't be stopped. Aldo has only lost one fight in his whole career back in 2005. Aldo was 3-0 when he entered the WEC and ran through some of the best the WEC had to offer at the time. Aldo went 5-0 in the WEC with his unforgettable first round double-knee knock out of Cub Swanson earning him a title shot against champ at the time Mike Brown. Brown was coming off two big wins over former champ Urijah Faber. Aldo beat down Brown in a one sided fight to become the WEC's featherweight champion. "Scarface" then successfully defended his title against Faber, which showed the world he was the real deal and ultimately resulted in Faber's move down to bantamweight. He then successfully defended his title against Manny Gamburyan where after the fight he was promoted to the UFC's first featherweight champion. Aldo is 3-0 in the UFC and is expected to be put to a true test at UFC 156 where he is scheduled to defend his title against former lightweight champion Frankie Edgar. Key UFC Wins:  Mark Hominick, Kenny Florian and Chad Mendes. No Key Losses
1. Benson Henderson
Ben Henderson lives up to his nickname of "Smooth" and has been nothing but flawless since joining the UFC. There is a reason he is number one on my list. Henderson entered the WEC 7-1 and went 5-1 under their promotion with his only loss coming by the hands of Anthony Pettis at the last/final WEC event (WEC 53). Even though he lost, Henderson and Pettis were voted in as the Fight Of The Year. One of the best fights in WEC history (in my opinion) has to be for the lightweight Interim championship against Donald "Cowboy" Cerrone. That fight made my jaw drop at times and gave me so much respect for both fighters and the sport of mma. Henderson then went on to become the true champ by defeating Jamie Varner for the WEC lightweight title with an awesome standing guillotine choke. Henderson entered the UFC on a title loss and some believed he was a one trick pony. We all know that isn't the case. Bendo is 5-0 in the UFC defeating Frankie Edgar twice. He also has the sixth best all time UFC takedown accuracy (65%), and holds the current record for best statistical submission defense. There is no doubt in my mind that Ben Henderson is the best fighter in the UFC that came from the WEC. He will be defending his title against Nate Diaz in December on Fox. Key UFC Wins: Mark Bocek, Clay Guida, Jim Miller, Frankie Edgar (twice) won the lightweight title and successfully defended it.
The boys in blue (WEC's trademark color) were scrappers to say the least. Watch the video below to see some of their greatest moments as winners and losers.

Video courtesy of YouTube uploader ddevilMMA and content by the WEC, a Zuffa LLC production.
Honarable Mentions:
Chan Sun Jung, Anthony Pettis, Ricardo Lamas, Brad Pickett, Brian Stann, Cub Swanson, Diego Nunes, Rani Yahya, Dustin Poirier, Brian Bowles, Erik Koch, Michael McDonald.
Biggest Busts:
Urijah Faber, Miguel Torres, Mark Hominick, Josh Grispi, Damacio Page, Shane Roller, Antonio Banuelos, Charlie Valencia, Kamal Shalorus,  Leonard Garcia, Eddie Wineland, Steve Cantwell, Scott Jorgensen, Mike Brown, Manny Gamburyan.
For all you mma fans that might have missed what the WEC had to offer, here is a list of my favorite WEC events of all time and my best moments:
WEC 1- Leonard Garcia defeated Victor Estrada via KO (head kick) at 0:54 of round 2. Garcia got me hooked on the WEC.
WEC 6- Probably one of my favorite cards of all time. Nick Diaz defeated Joe Hurley via submission (kimura) at 1:55 of round 1 to become the first ever WEC Welterweight Champion. Frank Shamrock defeated Bryan Pardoe via submission (armbar) at 1:46 of round 1 to become the first ever WEC Light Heavyweight Champion
WEC 9- Chris Leben defeated Mike Swick via KO (punch) at 0:45 of round 2 to become the first ever WEC Middleweight Champion
WEC 12- Doug Marshall defeated Carlos Garcia via KO at 2:46 of round 1.
WEC 25- Urijah Faber defeated Joe Pearson via submission (strikes) at 2:31 of round 1 to retain WEC Featherweight Championship
WEC 36- Mike Brown defeated Urijah Faber via TKO (punches) at 2:23 of round 1 to become the new WEC Featherweight champion
WEC 41- This was Brown vs Faber II but what really stood out for me was three other fights. Anthony Pettis defeated Mike Campbell via submission (triangle choke) at 1:49 of round 1. Donald Cerrone defeated James Krause via submission (rear naked choke) at 4:38 of round 1. And the best knock out ever-Jose Aldo defeated Cub Swanson via KO (double flying knee and punches) at 0:08 of round 1.
WEC 42- Brian Bowles defeated Miguel Torres via KO (punches) at 3:57 of round 1 to become the new WEC Bantamweight Champion
WEC 43- Ben Henderson defeated Donald Cerrone via unanimous decision (48–47, 48–47, 48–47) to become the WEC Interim Lightweight Champion and still is my favorite WEC fight of all time.
WEC 47- Anthony Pettis defeated Danny Castillo via KO (head kick and punches) at 2:17 of round 1
WEC 48- Jose Aldo defeated Urijah Faber via unanimous decision (49–45, 49–45, 50–45) to retain the WEC Featherweight Championship, but the best was Leonard Garcia defeated Chan Sun Jung via split decision (29–28, 28–29, 29–28) and it was FOTN and Fight of the year in 2010.
WEC 51- George Roop defeated Chan Sun Jung via KO (head kick) at 1:30 of round 2 and Donald Cerrone defeated Jamie Varner via unanimous decision (30–27, 30–27, 30–27) in an awesome fight.
WEC 53- Anthony Pettis defeated Ben Henderson via unanimous decision (48-47, 48-47, 49-46) to become the new and final WEC Lightweight champion and I'm sure we all can't forget the awesome Pettis kick off of the cage. If you missed it, youtube it, you won't be sorry.