There are technically three guys waiting their turn to either challenge for the featherweight championship for a first time, or for their rematch.
Between Ricardo Lamas's (13-2) four fight win streak, Chad Mendes's (15-1) four fight win streak, and Cub Swanson (20-5) riding a five fight win streak, the number one contender spot could be wide open at this point.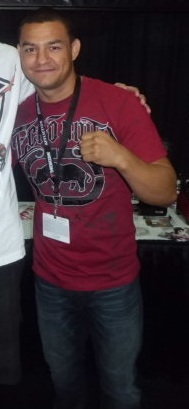 Earlier today, Cub Swanson had some words regarding Lamas not being active enough on the social media tool, Twitter. Not only publicly commenting on it, but going as far as almost taunting Lamas.
"Come on @RicardoLamasMMA get off the bench and get in the mix," tweeted Swanson to Lamas.
Ricardo being the person he is, did not have much to say other than stating he did not have time to be on twitter as often.
If you recall back at UFC on Fox: Velasquez vs Dos Santos November 12, 2011, Ricardo was the one who defeated Swanson in the second round via arm triangle submission.
Mendes and Ricardo have never fought and Lamas only seemed interested in the idea if indeed he was not to be awarded with the next title fight against current champion and featherweight king Jose Aldo.
"@chadmendes I want my chance to fight Aldo which is something I feel I've earned, but if that can't happen you're the only person I'd fight," tweeted Lamas to Mendes.
Between these three fighters (in my opinion), it was Ricardo Lamas who had secured his place as the true number one contender before now lightweight champion Anthony Pettis interrupted the whole plan.
It seemed as if popularity along with the media and fans had to a lot of influence on pushing the idea that Lamas deserves the next shot, regardless of the fact that Pettis has been a lot more outspoken when it comes to asking for what he wants.
Lamas, and Swanson all competing one more time each before anyone gets to face Aldo. I feel now that Aldo is on the shelf, and will be returning to an undecided situation which will leave Mendes, Lamas, and Swanson, all competing one more time each before anyone gets to face Aldo.
The match-up that makes the most sense to me is to have Mendes and Lamas square off since both have beaten Swanson in the past.
The styles between the two would almost create a stalemate on the ground since both have very accomplished wrestling credentials behind them and make for one hell of a fight.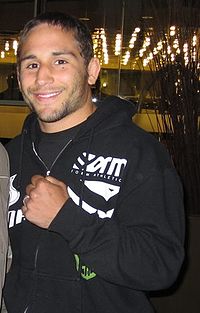 This could potentially also buildup Ricardo's name as a key contender and expose him to a lot more mma fans who eventually could be rooting for him if there was an impressive win over a guy like Chad Mendes.
The fight would have to be on the later part of the card, and probably a PPV event rather than a Fox card.
Swanson would have to wait a bit longer to get his next opponent, but maybe it is needed as he would not be looking for the same result from previous outings against both Lamas and "Money" Mendes.
Either way, there will be only one loser out of the group, the one who gets bumped out of the direct title picture.
Hopefully the UFC brass does not choose popularity over accomplishments and the past.
Who would you like to see challenge for the title out of the three, and who would you like to possibly see fight for a number one contender spot in the featherweight division?
More importantly, who would give the long reigning champion the most trouble and who would pose the biggest threat of taking the crown away from the 145lbs king?