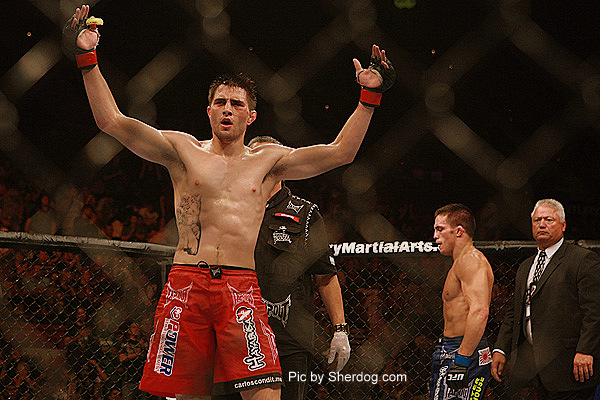 So far GSP has maintained his hold on the welterweight division since he returned from his knockout loss at the hands of Matt Serra back at UFC 69 in 2007. That's it folks. That's why people doubt him today, including myself at times to be honest. None of us can forget the fact that GSP has been adeptly dethroned in the past.
People should give Carlos Condit a chance at beating GSP, but should definitely stop believing this will be the biggest test of GSP's career at the end of business tonight.  It's interesting how people don't realize how this fight will most likely play out in my opinion. GSP's gonna get Condit down every round and then work on improving his position over five rounds to ensure he wins another unanimous decision.
Condit has been able to finish fighters off his back but in this fight, that mentality will work against him. If he finds himself on his back he will hunt for submissions while GSP vicariously racks up points and cruises to victory.
The problem we all face through remembering his loss to Serra is our complete disregard of the facts. Statistically GSP has taken less damage in fights, accrues higher striking and take down percentages, as well as harboring an advantage at being able to take less damage in the cage.
Hell, I could write another four thousand words and still not tell the story of tonight better than the statistical compilation by fightmetric.com displayed in numbers and facts in the "tale of the tape" listed below.
TALE OF THE TAPE

Georges St-Pierre /Carlos Condit
Wins/Losses/Draws        22-2-0  / 28-5-0
Average Fight Time         11:09 / 10:01
Reach                            76.0″ (193.04 cm)/74.0″ (187.96 cm)

STRIKING (Significant Strikes)

Strikes Landed per Min. (SLpM) 3.79 / 3.27
Striking Accuracy                      54% / 44%
Strikes Absorbed per Min.          1.17 / 2.15
Defense                                    75% / 60%

GRAPPLING

Takedowns Average/15 min.      4.3 / 0.81
Takedown Accuracy                 78% / 58%
Takedown Defense                    86% / 46%
Submission Average/15 min.     1.35 / 1.73

Most recent fights (Newest First)

Win – Shields     Win – Diaz
Win – Koscheck Win – Kim
Win – Hardy        Win – Hardy
Win – Alves         Win – MacDonald
Win – Penn          Win – Ellenberger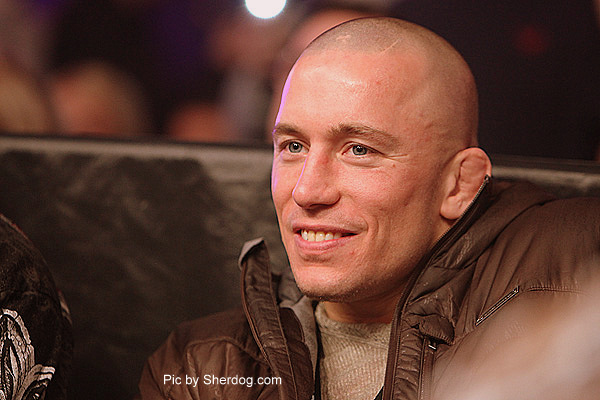 Don't let those kind eyes deceive you because behind them is the brain of one of the best fighters of all time. At this point people will be judging me and concluding that I must be bias. The truth is I just look at the statistics. Can Condit win? Sure. Will he win? Probably not and most likely the answer is a definitive no.
What honestly surprised me is the fact that statistically, GSP dominates Condit in the striking department just as thoroughly as he does in grappling. Now no fight is worth watching unless it is competitive and both fighters have a chance at beating their respective opponent. So mark my words, Condit doesn't stand a god damn chance! Just look at the statistics and tell me if you still believe the hype behind this one?
Condit won't be able to use his patented explosive striking attack with GSP constantly setting up those sprawling take downs of his. Sure his submission skills are nasty but GSP is physically too strong and technical to allow himself to get caught in anything lethal. Just watch the Olympic training regimen he puts himself through or if you're an under achiever, simply stare at his body.
GSP should be likened to Jon Jones since they both manage to cut weight and use their dominantly built physique to create opportunity and ground out wins. I believe the first round will tell the story of the entire fight in this one.
If GSP hasn't recovered from his injury, it will show through within the first couple minutes of the fight. Of course if anyone was capable of recovering from such a debilitating injury, it would be the welterweight champ. After this fight, I think people will have to put GSP back up right underneath Anderson Silva on their pound-for-pound list again. Until those two lose a fight, people need to stop trying to squeeze in Jon Jones and others who have only just recently entered the scene.
Watch the weigh-in highlight of the GSP vs Condit face-off from last night in the video below.

Video courtesy of the UFC.