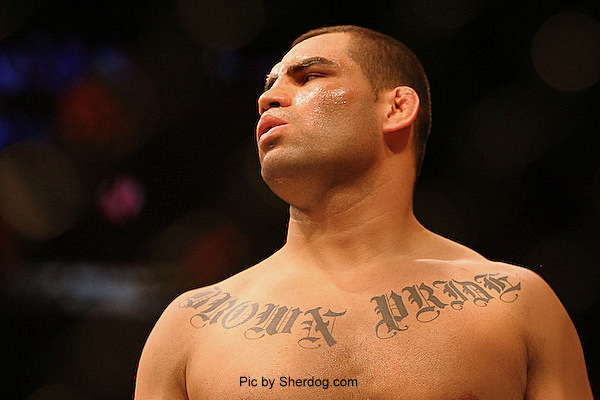 Conventional logic does not apply that well when attempting to analyze this fight. Both men are the best competitors the heavyweight division has ever seen in mixed martial arts. Of course there are fans who believe Alistair Overeem is arguably up there with them as well and I guess that's true.
Only because Overeem is one of the very few men in the heavyweight division who has yet to to be out grappled by Velasquez or knocked unconscious by Dos Santos and that's going to change eventually. Mark my words because any believers in the "Demolition Man" will be singing along to a different tune very soon.
To adequately break down the fight between these two I  immediately think back to their individual paths to the UFC belt and how similarly they found their way in to the heavyweight title picture. Both men found themselves fighting very early on in their careers against men who were considered at the time, number one contenders for the belt.
Dos Santos's first fight in the UFC was against Fabricio Werdum at UFC 90 in 2008. Werdum was coming off a dominant win over Brandon Vera and many believed he was next in line for a title shot. I became enraged when I heard the UFC was considering him a top contender for the belt if he won one more fight when that fight was against a rookie in Dos Santos.
Of course I was more than pleasantly surprised when Dos Santos floored Werdum with an uppercut, effectively collapsing his opponent in the same way someone like myself would nonchalantly drop a collapsible chair off a cliff.
In fact the most memorable aspect of this piece is the video of Dos Santos dropping people left and right with one punch "lights out" power in the video below.

Video courtesy of YouTube uploader FlyWin Evolutions. Content by the UFC.
From there he meteorically rose through the ranks amongst the heavyweights. I can't put it better than the video will show you in the link above. Yet his story almost mirrors a very similar tale in Cain Velasquez's path towards becoming the heavyweight champion of the world as well. Another man who was over hyped and getting handed relatively unchallenged talent at the time Velasquez joined the UFC was Cheick kongo.
At the point Velasquez was set to fight Kongo, he was on a three fight win streak in his first three bouts in the UFC. He hadn't fought a top talent in the division yet and Kongo was being heralded as the next challenge for the man atop the mountain in 2009, Brock Lesnar.
What I felt was going on is Kongo was the perfect opponent for Lesnar. He presented some challenging elements in his fight style yet the UFC could rest assured their highest draw would succeed in taking down the Frenchman if necessary to continue the success of Lesnar in at least the foreseeable future.
Not to mention the fact that Kongo is known for welcoming new and relatively untested competitors to the UFC. That's why I never liked the accolades he received throughout his career and have always believed he's been highly over rated by fans and the media alike. In the words of Joe Rogan which were something along the lines of, "If there was a championship belt for the scariest looking man alive, the undisputed champ would be Cheick Kongo."
Sitting at a bar I sullenly watched Kongo floor Velasquez with a big shot. But then, the emergence of Velasquez began as he took control of the fight and methodically tossed Kongo around like a rag doll on his way towards a dominant unanimous decision victory at UFC 99.
Velasquez was definitely on the map at that point and with the pride of the entire Mexican American population behind him, he eventually became the first man to take Lesnar's head off in a fight and even more impressively, became the first Mexican heavyweight fighter in all of combat sports history to hold a major heavyweight title.
Unfortunately his first title defense was against the other guy at the top of the division these days. A man who was dropping opponents with his fists in the way the FBI kicks in doors on terrorists.
At the first UFC on FOX event, it only took Dos Santos (the number two fighter in the world) one minute to strip the belt from Velasquez, abruptly switching places with the former number one badest dude on the planet. It's been about a full year and both men have fought since then and neither has relinquished their hold on the top two spots.
This will be the most relevant rematch in the sport's history if you think about it. No one can beat these men except for each other. So let's look at this fight to analyze Velasquez's chances at taking belt his back and avenging his only loss to date.
First look at their skill sets. Dos Santos is quick with solid wrestling defense. He refuses to be taken to the ground and more often than not, drops his opponents with staggering power in both hands. His boxing is probably the best in the UFC, and that's a bad characteristic to face in the heavyweight division in a sport where only four ounces of padding stand between him and your face.
Velasquez on the other hand also exhibits solid striking skills yet in a very different style. He relies on his ability to take his opponents down and make them pay for every inch of space they inhabit when trying to regain their feet by dropping punches and elbows tirelessly in to the front and sides of their heads.
For Velasquez to win, his number one task will be to force Dos Santos to respect his striking ability. Then he must shoot for a take down and get the champ down. From there he will have no choice but to hold him down and make him pay with solid ground-n-pound as the champ attempts to regain his feet. Then he's gotta repeat the process again, and again, and again until Dos Santos is finished or simply out muscled over a five round ordeal. Oh, and in that time he has to avoid getting knocked the "F" out!
That's a tall order for any man to deliver against Dos Santos and frankly no one has been able to even come close to threatening the champ in the cage. That's all bad news for Velasquez unfortunately. Yet if any man could take down Dos Santos, it would be Velasquez.
I didn't think about sharing my opinion in a long drawn out rant that ended with a direct dismissal of Cain Velasquez. He is soft spoken and builds the validity of his name in the fight world through the only way he knows how.
Through dominating bitches by not giving up a single inch of space between his limbs and his opponent's bodies. Watch his fights and you will see a man obsessed with constantly searching for dominant positions to deal out damage and tire out his opponents.
The Velasquez who dominated Ben Rothwell at UFC 104 was the same man who showed up after his fight against Dos Santos to absolutely march through Antonio Silva at UFC 146 in what was easily the bloodiest one sided fight I've ever seen.
It wasn't even fun to watch, that's how bloody and dominant the former champ was that night. He will be looking to return to top form against Dos Santos on December 27th and make no mistake when gauging his chances at success.  I'm betting he wins by knockout at UFC 155 while wearing his patented straight face in direct contrast to all our confused and shocked ones.
Watch the beautifully rendered teaser trailer to UFC 155: Dos Santos vs. Velasquez 2 in the video below. If it doesn't leave you slightly in awe, you clearly have no soul.

Video courtesy of YouTube uploader NickTheFace2. Content by the UFC.
By Gabe Keith ~ Senior Editor
Follow the FREAK on Facebook!