Miesha Tate may have re-branded herself as the "Cupcake," but she's proven to be anything but that in her professional MMA career so far. Remember, she was the champ before Rousey when the women's 135lb division was deepest in Strikeforce.
But let's face the music: it's hard to imagine anyone surviving more than a minute or so against the women's UFC bantamweight champion Ronda Rousey. Where Ronda has defeated every single one of her opponents by first round arm bar, at some point she will be pushed to the limit in a fight.
It happens to everyone. Hell even the greatest ever will be fighting as the challenger right after her on the same card, now that's a prime example of the perils of mortality. It's never a question of 'will it happen,' more so of, 'when will it happen.'
Considering Miesha Tate's fight record, her past fight with Rousey (she lost an arm in March 2012 to the champ), and her reputation in the sport, she can't be counted out, but shouldn't be held in the highest regards of the division at this point either. Miesha has a shot if she can avoid the ground game. When she started throwing those bombs of hers in the first round of her first title defense initially against Rousey, it was evident that she held the definitive advantage on the feet.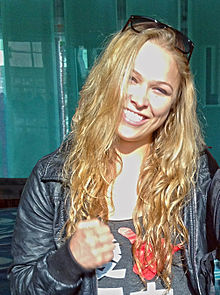 Of course it didn't take long for Rousey to do her thing and take the fight to the ground. What's more, her armbar late in the first round was probably the most brutal she's dealt out in her career to date.
The real question is can Miesha come up with a strategy that will successfully avoid Ronda's armbar. If she can, then she should be good. At least the fight will make it out of the first in that case, and Rousey will be tested in areas she's probably not nearly as proficient in.
Regardless of how much practice Ronda's had in the striking department since switching over from pure Judo to MMA, that's where Miesha must feel her best chance of defeating the champ lies. As a bystander, I would like to see an opponent of Ronda's seriously attempt to slow the pace down in the cage and avoid the clinch with the champ. If someone can go out there and just not let Rousey tie them up, that's where things could get interesting and immediately become less one sided.
Most likely this will take the work of someone with the physical capabilities of the likes of 'Cyborg' Santos or maybe an elite Olympic wrestler turned MMA professional in Sarah McMann. Of course if anyone has a better shot at Ronda Rousey these days, it may be the UFC bantamweight #1 contender who beat Miesha in her last fight at TUF 17 Finale in April in Cat Zingano.
Either way I can't wait for the drinking games, betting lines, and over all anticipation one gets when they see a car crash in a movie about to happen, as Ronda hunts for her signature armbar and Miesha attempts to dethrone her greatest rival at UFC 168.