When the UFC first announced Frankie Edgar vs Chad Mendez would be headlining The Ultimate Fighter finale there was plenty of raised eyebrows amongst the MMA community.  Many felt this is a match up worthy of headlining a UFC Fight Night event as a minimum, not a mere TUF Finale.  Sure, the finale will form part of the busiest and most high profile weekend in the UFCs history which is scheduled to climax with UFC 194: Aldo vs McGregor, but even so, it's still a hell of a headline bout for TUF.  Is it simply a case of the UFC giving fans some real value for money, or is there an ulterior motive?
On Nov 12 Conor McGregor published a curious statement on his official Facebook site which simply reads 'Another man down', but what does that mean ?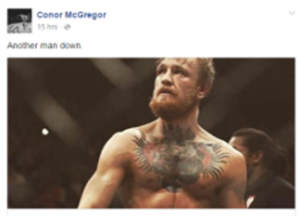 McGregor always maintained that he has mentally broken Aldo and that the Brazilian will not show for their Dec 12th fight either, and to be fair to 'mystic mac', he is more often right than wrong with his predictions.
At this point there is nothing officially released regarding Aldo's health so we must assume the fight is still on until we hear otherwise, but Conor's Facebook post is a real talker and a colleague of mine made a very pertinent point; he suggested that the UFC made the decision to have Frankie and Chad fighting on the very same weekend as Conor and Jose as a form of backup insurance i.e. the UFC are equally as skeptical as Conor that Aldo will not show up for this fight either.  A fair point indeed. From the UFC's perspective the only other real title contenders, Frankie edgar and Chad Mendez, will both have completed a full fight camp and could can step in and fight Conor if the unthinkable happens a second time.  Also, this time there can be no excuses from fighters regarding short notice.  Infact, if Chad and Frankie's team have thought about the Aldo situation properly then they will be including an element of training for Conor as part of their fight camp.
Make no mistake, the real fight we all want to see is Aldo and McGregor; it's arguably the biggest fight in UFC history and the fans can't be denied a second time. We don't just want, but need to know if Conor is capable of walking the walk and dethroning the greatest Featherweight MMA has ever seen.
However, if Conor has foreseen the future once again and Aldo doesn't show then he must be stripped of his title proper.
Let me know your opinion on Twitter  @heffiejr