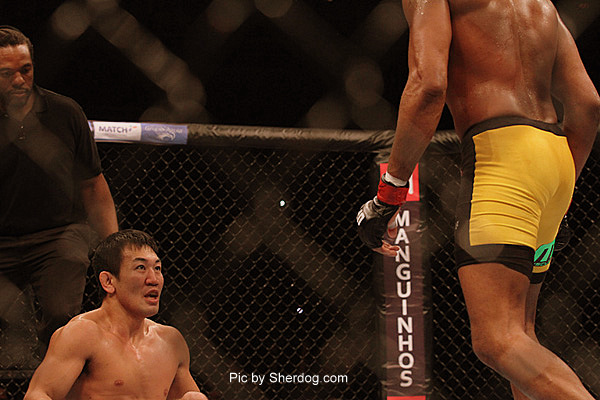 The middle weight division has been known for the last couple of years as a train station filled with top contenders. Every day more arrive, and as quickly as Anderson Silva (33-4) checks their tickets, they leave and never come back.
That has been the long and short of it since Silva put the middle weight division on hold in 2006. Take a snap shot of his weight class today and you will see two men in Michael Bisping (23-4) and Chris Weidman (9-0) hovering near the top. Both are fighting in pivotal fights in the coming months, and at this point everyone else has either lost to Silva or clearly aren't on his level.
Alan Belcher is making waves I guess but if we are honestly trying to peer in to the future at a glimpse of what will come, let's take our analysis a little deeper than giving a good fighter a punchers chance against a man who is statistically known for making his opponents miss, while also statistically known for not missing them in turn. If you don't believe me, Google it.
Bisping has been a household name in the UFC since he won TUF 3 back in 2006 when most of us still cared about the show and when it still produced top level opponents. He's been in the UFC and winning consistently since then.
That's a long time hovering around the web of a spider without managing to be caught. The reason he hasn't fought "The Spider" Silva yet is due to a couple losses in his career that forced him to repeatedly climb the ladder again and again.
After getting KO'd by Dan Henderson at UFC 100, he went on a tear in the middle weight division, only dropping two very closely contested losses to Wanderlei Silva at UFC 110 in 2010 and recently against Chael Sonnen at UFC on FOX 2.
With a dominant win against Brian Stann recently at UFC 152, Bisping is starting to sound different. He wants to fight for a title and feels confident he can beat Silva. This sort of sentiment isn't conveyed easily or without conviction.
He implores Dana White, matchmaker Joe Silva, and his fans repeatedly for a shot at the champ.  He strains to convince everyone that he can beat anyone in the middle weight division and will continue to do so until he's given his rightful shot.
What's impressive is that he took a fight that will be booked in Brazil on a UFC card in January against Vitor Belfort. That's a dangerous fight for anyone, yet Bisping believes in his heart he will beat Vitor and then finally cement his claim as the number one contender.
"Listen, would I like to fight for the title? Of course I would. But that opportunity hasn't been presented. By all accounts, I think Anderson Silva is probably going to be fighting GSP, if GSP beats Condit next." Bisping said in an interview with MMAFighting.com. "Yeah, a lot of people want me to fight for the title, but as I said that opportunity isn't there right now. I want to continue fighting. The more I fight, the better I get. The more time I spend in a training camp, the more I improve. I want to fight the best guys out there."
Realistically there isn't much left for him to prove and I believe if he is given a shot at the champ, he will have the second best chance at winning than any of his peers. So if he gets past Belfort, it will be hard to deny him a title shot, especially if Chris Weidman somehow falls out of contention.
Segway to the other man in the mix and it's hard to ignore the top contender Chris Weidman must face before turning his attention back on the hunt for the title.
Tim Boetsch (16-4) has been over looked before, and unfortunately I'm going to count him out again. Although truthfully he may have been down in fights and counted out by fans, he continues to spoil shows with his own agenda of winning. Now he faces his toughest test in undefeated rising contender, Chris Weidman at UFC 155.
Enjoying a four fight win streak in the UFC, Boetsch is also undefeated in the middle weight division and is not a stranger to being offered up to men considered his betters. When he fought Yushin Okami in his own backyard at UFC 144 in Japan, he took a serious beating in the first two rounds, only to come back and put Okami away in the third round in a spectacular flurry of upper cuts.
Then he fought Hector Lombard, and regardless of how uncharacteristically boring both men appeared in the fight, Boetsch earned a split decision win against Lombard. Since then we all have to sack up and grudgingly consider him a top contender in the middle weight division. All jokes aside, he's earned his spot whether he manages to keep it or not at the end of the day.
Let's seriously agree to ignore the "punchers chance" rhetoric again and agree Boetsch won't get past Weidman that night. He lacks the speed and shear technical abilities needed to stay near the top for long.
Weidman is undefeated and almost as impressive as his win streak may appear, he really hasn't fought many top contenders. Alessio Sakara, Tom Lawlor, Demian Maia, and Mark Munoz are all good fighters. Out of Weidman's trophy case, Mark Munoz is the only man ranked in the top ten unfortunately.
Yet he is also intent on fighting Anderson Silva these days. In a quote recorded by bloodyelbow.com, Weidman refused to talk about fighting anyone before agreeing to the Boetsch fight until he knew for a fact he wouldn't be granted a title shot.
"I will fight anyone the UFC tells me to fight," said Weidman. "But the guy I WANT to fight is the champion, Anderson Silva. If I was told I was not getting that fight next, okay, let's look at someone else but until then I am not thinking about anyone other than Anderson."
When I watch Weidman fight, I really don't need to see him fight anyone else before Anderson Silva at this point. He's that damn good and it's not hard to see. Just in the way he caught Mark Munoz at UFC on FUEL TV 4 with a down ward slashing elbow and then finished him with vicious strikes, it was enough for me to see why Anderson Silva didn't jump off his couch for that one over the Stephen Bonnar fight.
Let's be honest, ok Silva is obviously not afraid to fight anyone, but if anyone had the potential to take his belt at the moment, its easily Chris Weidman. Sure he's not incredibly experienced, but either was Silva when he fought for his first UFC title against Rich Franklin. He only needed one win to earn it by the way.
Now the biggest question must be asked. If Michael Bisping and Chris Weidman beat their respective opponents in the future, which one should be granted a shot at the champ? Unfortunately Anderson Silva's next fight in the middle weight division will be completely subjected to timing.
Right now Silva is looking to pick a fight against Georges St. Pierre, while also contemplating a break from the sport until the end of 2013. I like the match up GSP. I believe our generation needs a rumble in the jungle or even closer to home, our Mayweather vs. Pacquiao. Our generation needs its super fight. To be honest, there hasn't been a true super-fight in combat sport history for decades. At least not as far back as my collective memory has served me.
Regardless of the illusive super-fight whispers, both Bisping and Weidman will have earned their shot at Silva if they get passed their current opponents. Hell, they have earned it already.
But if I had to give one man a shot, I say Chris Weidman deserves it. He is undefeated, young enough to need this win, and the most dangerously talented threat Anderson Silva will have faced in a long time. It will be interesting to see who Silva winds up facing and who will end up dethroning the champ at the end of the day, whether it happens in 2013 or 2031.
More importantly, check out Anderson Silva's crib in the video below!

Video courtesy of the UFC.