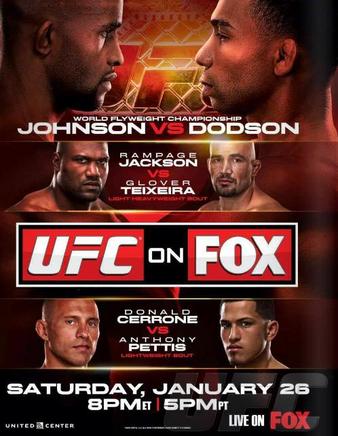 The main card for the UFC on FOX event is headlined by Demetrious Johnson vs. John Dodson for the UFC flyweight championship. Will Johnson reign as the defending UFC flyweight champion or will we see a passing of the gold and crown a new king of the flyweight division with Dodson?
Be sure to watch this main card as the two fastest guys in the UFC set out to battle for the championship. The rest of this card hosts the last fight of a veteran's UFC contract and fighters looking to secure themselves into the number one contender status or top 5 in their respected weight class. The UFC on FOX live event broadcasted from Chicago is sure to produce fights tailor made for the most hardcore UFC fans.
Erik Koch was scheduled to face the king of the feather weight division not once but twice last year; once at UFC 149 and at UFC 153; however, as the year of 2012 proved to be the year of injuries, Koch will have to work himself back into contention starting with this bout against Ricardo Lamas.
Koch is sporting a 4 fight win streak and looking to continue to a 5 fight win streak and earn himself, yet again, another shot for the feather weight gold. Lamas, the hometown hero, is on a 3 fight win streak looking to set him up for the number one contender status. Koch's key to victory is his striking and power, as Lamas key to victory is his take-downs and explosiveness. This bout will be sure to ignite the interest of the fans and pave a path to the next shot at the feather weight champion being Jose Aldo or Frankie Edgar as those two meet February 2nd at UFC 156.
My prediction: Koch will control the octagon using his striking and power to avoid major takedowns and edge out a split decision victory over Lamas.
Anthony Pettis is on a mission to face the current UFC lightweight champion Benson Henderson. He has previously beaten Henderson by an off the cage flying head kick, winning the WEC championship belt at WEC 53 by a unanimous decision victory.
This victory has found its' place on many highlight reels in the sport and will always be remembered by mixed martial arts fans. Pettis is on a 2 fight win streak looking to extend that to a long awaited title shot.
Donald Cerrone is also on a 2 fight win streak looking to secure his place as the next number one contender. Pettis's keys to victory are unorthodox striking and solid ground game, whereas Cerrone's keys to victory are striking and submissions. This bout is just a stepping stone moving the victor one step closer to the light weight title.
My prediction: Pettis will utilize his speed and striking en route to a split decision victory over Cerrone.
Quinton Jackson will make his last appearance in the UFC as this fight is the last fight on his contract. Jackson has made it clear he is leaving the UFC after this bout and there is no love loss for the UFC for Jackson.
Jackson is coming into this battle on a 2 fight losing streak and is looking to close out of the UFC with a victory for his fans. Glover Teixeira is on a 2 fight winning streak and looking to work himself into the mix in the top ten of the UFC light heavy-weight division. Jackson's keys to victory are strength and boxing, as Teixeira keys to victory are striking and jiu jitsu. This fight is one for the fans as this is possibly the last time ever you will see Quinton Jackson in the UFC.
My prediction: Teixeira will push the action and out strike his opponent leading to a unanimous decision victory over Jackson.
Demetrious Johnson will look to defend his UFC flyweight championship belt and secure himself as the reigning defending champion this Saturday. Johnson is on a two fight win streak with his last victory, making him the flyweight champion.
This is his first title defense and he will be looking to send a message to the rest of the division this Saturday night with a convincing victory. John Dodson is on a tear right now riding a solid 3 fight win steak and finishing two out of his three UFC bouts.
Dodson has every intention of walking out the next UFC flyweight champion. Johnson's keys to victory are speed and conditioning, as Dodson's keys to victory are striking and speed. Do not blink as the two fastest guys in the UFC are set to square off in this UFC main event for the fly weight championship.
My prediction: Johnson will set Dodson up with striking, get the fight to the fence and press for take-downs from there Johnson will grind out a grueling 5rd unanimous decision victory.
This UFC event is sure to be explosive with championship titles on the line, number one contender match ups, and Quinton Jackson's last fight in the UFC. This card is sure to exceed your expectations with high ranking talent on free TV.
Follow me on Twitter at @mmadocket and Facebook at www.facebook.com/MMADocket and stay tuned on www.mma-freak.com for the latest on MMA news.