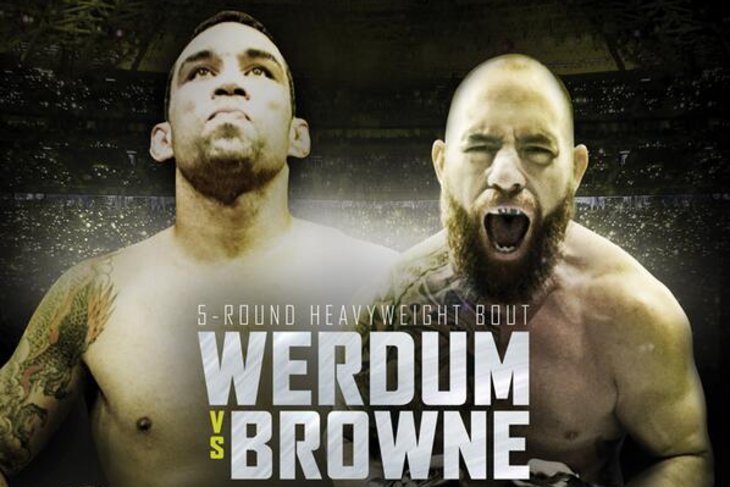 There was a lot going on this last week and there's a lot going on this week. Enough said let's look into this very busy week in major MMA:
UFC Fight Night: Nogueira vs. Nelson
Main Event: Antonio Rodrigo Nogueira #8 Heavyweight vs. Roy Nelson
Prediction: Nogueira by submission. Result: Nelson by strikes. It was sad to see "Big Nog" loose again like that but someone has to lose.
Co-main Event: Clay Guida #6 Featherweight vs. Tatsuya Kawajiri
Prediction: Kawajiri by strikes. Result: Guida by decision. Guida was in dire need of a win in the division and he isn't out of deep water yet.
John Howards vs. Ryan LaFlare
Prediction: LaFlare by strikes. Result: LaFlare by decision. LaFlare said he would capitalize on this opportunity and he certainly delivered.
Ramsey Nijem vs. Beneil Dariush
Prediction: Nijem by decision. Result: Nijem by strikes. As I said experience and played a factor in this fight where the favorite won.
Overall score: 1/4; 0.25 prediction percentage. 0.5 for LaFlare's win by decision and 0.5 for Nijem's win by strikes.
Bellator 116
Main Event: Blagoi Ivanov vs. Lavar Johnson
Prediction: Ivanov by submission. Result: Same. Ivanov went back and form with Johnson including slams before he found the submission.
Co-main Event: Alexander Volkov vs. Siala-Mou "Might Mo" Siliga
Prediction: Volkov by strikes. Result: Same. The head kick in the first that sent "Might Mo" on his back was spectacular and well fought for.
Nathan Coy vs. Adam McDonough
Prediction: Coy by decision. Result: McDonough by strikes. Coy out wrestled McDonough in the first but then came back with strikes.
Joey Beltran vs. Vladimir Matyushenko
Prediction: Matyushenko by decision. Result: Beltran by submission. Sad to see Matyushenko go out on a loosing note but good fight.
Overall score: 2/4; 0.5 prediction percentage. 1 for Ivanov's win by submission and 1 for Volkov's win by strikes. Good fight card for sure.
Bellator 117
Main Event: Douglas Lima vs. Rick Hawn
Prediction: Hawn by strikes. The former Olympic judoku has certainly adapted the striking game as his own and he can defeat Lima with it.
Co-main Event: Patricky Freire vs. Derek Campos
Prediction: Campos by decision. If Campos can continue to keep his weight under control he will give "Pitbull" a very hard fight at the least.
Marcin Held vs. Derek Anderson
Prediction: Held by submission. Anderson may have pulled an upset in the first round but Held is a veteran with dangerous submissions.
Karl Amoussou vs. David Gomez
Prediction: Amoussou by submission. Amoussou is looking to snap the two fight loosing skid he is currently on and can certainly do it.
The Ultimate Fighter Nations Finale
Main Event: Michael Bisping #6 Middleweight vs. Tim Kennedy
Prediction: Bisping by strikes. Bisping has been in the middleweight rankings for a while and will likely win the bout against Kennedy.
Co-main Event: Patrick Cote vs. Kyle Noke
Prediction: Noke by submission. Both men are veterans but Noke has the more proficient ground game and can pull off the win for sure.
Sheldon Westcott vs. Elias Theodorou
Prediction: Westcott by submission. Westcott showed that his submission game might be the best in the house compared to Theodorou.
Chad Laprise vs. Olivier Aubin-Mercier
Prediction: Laprise by strikes. Laprise pulled what could be considered a Knockout of the Season in his semifinal bout and can do it again.
Dustin Poirier #9 Featherweight vs. Akira Corassani
Prediction: Poirier by submission. Poirier is an extremely talented fighter and this fight could also end with strikes on his part. We will see.
UFC on Fox: Werdum vs. Browne
Main Event: Fabricio Werdum #2 Heavyweight vs. Travis Browne #4 Heavyweight
Prediction: Browne by strikes. Browne has used his striking to pull three wins against name opponents and he can do it against Werdum.
Co-main Event: Miesha Tate #6 Women's Bantamweight vs. Liz Carmouche #8 Women's Bantamweight
Prediction: Tate by submission. Tate is in dire need of a win and has more of a grappling pedigree then retired marine Carmouche.
Donald Cerrone #10 Lightweight vs. Edson Barboza
Prediction: Barboza by strikes. Cerrone is a proficient striker but unfortunately has a tendency to choke. Barboza has no such problem.
Brad Tavares vs. Yoel Rombero
Prediction: Tavares by decision. Tavares is on a five fight winning streak making him one of the most underrated middleweights in the UFC.
Going to watch either of the UFC fights or Bellator 117? Feel free to leave a comment!