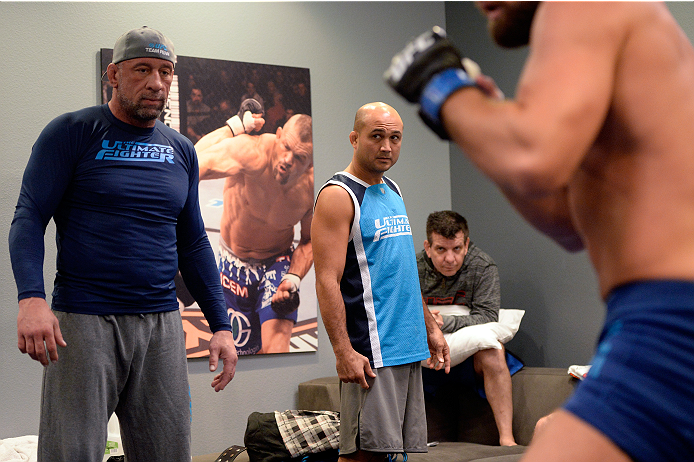 TUF 19: Episode 10 – One Fight Away
Following their lackluster fight, Matt Van Buren and Chris Fields have some easy words about their match. Later in the evening Fields, Hector Urbina, and Tim Williams begin drinking because of the fact that they are out of the competition and have no real commitments. At one point Urbina is caught cuddling with Cathal Pendred who has a match in the next few days. Fields and Urbina have some words but later settle their differences and continue drinking. At one point Williams starts running around the house naked leading to some awkward interactions with Fields who says his wife will be disappointed.
The next day at training, coach Frankie Edgar says that he won't be coaching either of the light heavyweights facing each other. Despite the fact they will be facing each other soon, Corey Anderson and Pat Walsh start sparring with each other. While this is a surprise no one intervenes and Edgar compares the situation to wrestling teammates having to face each other. In the meantime he continues to concentrate on training Eddie Gordon. Later on Gordon talks about how he plans on bringing his family to watch his fight in the finale.
Later on UFC President Dana White brings the cast members to the MGM Grand Garden Arena which is set up for UFC 167. His hopes is that they will be motivated there and decides to give them a motivational speech. He comes up with another one of his legendary lines telling them they are "One F***ing Fight Away" from making it to the finale. Another peace of motivation he gives them is the fact that three TUF alumni will be on the card. Having said that he comments to the camera that if that doesn't motivate them he doesn't know what will.
Finally fight day takes place and Pendred is motivated by the fact that the rainy weather is similar to the weather in Ireland. In the first round Pendred takes Gordon down several times but the round is very close due to the amount standing and another take down Gordon gets. The second round likewise is close and forces a third round. Round three is very close as well and the fight overall is in fact scored a split decision. Ultimately two of the judges score the fight in favor of Gordon and White believes it was too close to call decisively for Pendred.