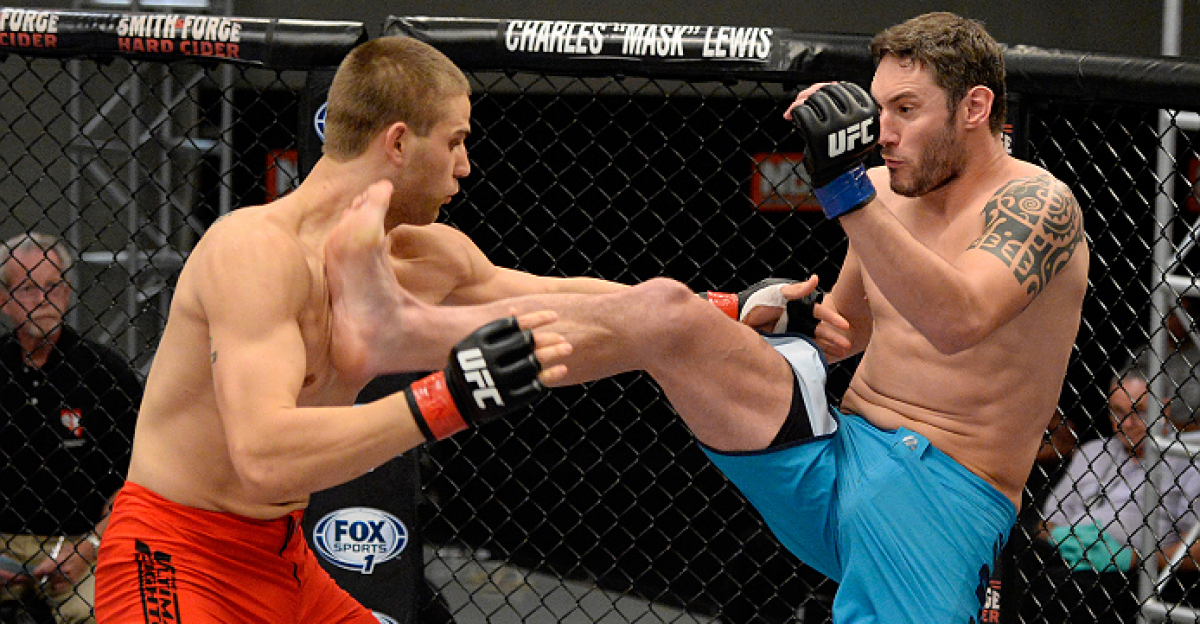 TUF 19: Episode 9 – Get That Money
After some discussion about the last quarterfinal, both teams go to the local Harley Davidson dealer. All of the semifinalists are taken there to choose their customized Harley Davidson gear and motorcycle. While there The Ultimate Fighter season 15 winner Michael Chiesa stops by and gives some words of advice to the various fighters. Overall it is a good day to get the fighters out of the house and for the fighters to relax. Once everything is done the fighters go back to the house and their lives including the upcoming grudge match.
During training Team Edgar's Matt Van Buren talks about his upbringing and how he lived in a middle class life but he and his peers became involved in drugs and how many of them ultimately died. It's then mentioned that by Frankie Edgar that Van Buren can use his reach to his advantage. There is also mention of the fact that Van Buren and his opponent Team Penn's Chris Fields don't like each other. Fields then mentions that he is working to make his and his wife's lives better. He also hopes to help promote the sport in his native Ireland.
At the weigh ins Fields wears an Irish flag and in retaliation Van Buren wears an American flag. Later on the match happens and Van Buren controls the match for the first round. In the second round Fields succeeds in taking Van Buren down but Van Buren is able to not only get out but respond with a take down. He then controls the rest of the fight for the most part and comes away with a majority decision. Dana White comments after the fight that nothing happened in the fight and he is wondering if there is any desire in this season's cast.
When White calls coaches Edgar and BJ Penn to talk about the semifinal match ups, he voices his displeasure in the matches. Instead of getting the semifinalists opinion on match ups, he tries to motivate them to get the season bonuses. At the end of the session he decides to do all the semifinal match ups himself. The semifinal match ups for the middleweights are Team Edgar's Eddie Gordon versus Team Penn's Cathal Pendred and Team Edgar's Dhiego Lima versus Team Penn's Roger Zapata. For the light heavyweights the match ups are Team Edgar's Van Buren versus Team Penn's Daniel Spohn and Corey Anderson versus Patrick Walsh both of Team Edgar.