At UFC 193, Zuffa's grand debut into the Australian market, events beyond Dana White's wildest dreams happened. According to Lorenzo Fertitta, the event PPV numbers have crossed the million threshold. The attendance stood at a final tally of 56,214, breaking the previous record of 55,724 spectators at UFC 129 in Toronto in 2011 headlined by Georges St. Pierre.
Holly Holm upsets "Rowdy" Ronda Rousey by knock-out in the second round. Needless to say, the world is shocked. Social media explodes. Many congratulate Holly Holm for being the first woman to defeat "Rowdy" in the octagon. And then there's the backlash against Rousey. It isn't pretty.
One does not have to dig too deep to say that Rousey ended up being the laughing stock of social media. With GIF's, jokes, insults, being widespread. But if you have followed "Rowdy" and her campaign leading up to UFC 193, it is understandable.
Since her first loss, celebrities, athletes, her rivals, and of course fans have ripped her. Miesha Tate, Cristiane "Cyborg" Justino, Laila Ali, and Lady Gaga were just a few of some of the big names out there to pile on the former champion. There are, of course, those who have come out in her defense.
Those such as Dana White, Floyd Mayweather, and even her opponent Holly Holm have said that Rousey does not deserve to be "trolled" as Mayweather put it. Then there is the media who has to question why even weeks removed from the event, Rousey still receives backlash and ridicule.
Looking back, a number of factors have contributed to the hate that is being poured on "Rowdy." While the media may have a short memory, it is obvious that fans do not. Part of that fault lies with the media itself.
When Ronda's streak was intact Dana White, Joe Rogan, sports personalities, and publications labeled her as "one of the greatest ever." She was virtually unchallenged in what many determined to be a very weak division. Aside from one match, Ronda had finished all of her opponents in the first round, and a majority of those came within the first minute of the first round.
Fans were suffering from Ronda Rousey fatigue, growing tired of her being compared to the likes of Muhammad Ali or Mike Tyson. When comparing Ali and Tyson's records to Rousey's, fans found the comparisons incomprehensible. Over their respective careers, Ali fought sixty-one matches, and Tyson fought fifty-eight. Including last weekend, Ronda has fought in just 13 matches. In essence, her career would not be considered to be even halfway done by the two boxing legends standards.
Another thing that turned fans off from "Rowdy" would have been her attitude. She modeled herself to be a heel, or villain. She developed an attitude where she did not care what other people thought of her, complete with Joan Jett's "Bad Reputation" as her walk out music.
While that in itself was not what really turned people away from her in regards to her attitude, it was other aspects of how she composed herself both inside and outside of the ring that made the difference. For example, her rivalry with Miesha Tate drew lots of notice, especially during their stints as coaches during the Ultimate Fighter. Both sides drew blood. And it was obvious that Ronda was more than happy to defeat Tate at UFC 168 in their second match against each other. However, when Tate extended her hand in a friendly gesture after the match, Ronda turned and walked away without thinking about it, drawing the ire of the crowd, and the same of MMA fans that saw it live on PPV.
The true sports fan likes to see sportsmanship. Winning or losing in grace shows many what your character is, and to many, Ronda showed what classlessness she had. She brushed it off, as did Dana White, and many other fans and media. And as time went on, having more success and winning, the champion embraced Hollywood. Movie deals, late night television, even appearing in the annual Sports Illustrated Swimsuit magazine. Glamour and fame rained on her as she was considered untouchable and continued finishing opponents in quick fashion.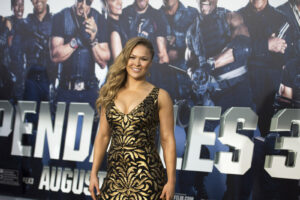 She even appeared on the cover of Ring Magazine, a publication for boxing. This without a doubt left some fans unhappy as she has never contributed to the sport of boxing.
As a fight between her and "Cyborg" Justino was supposedly in the works, many accused her of running from the fight when she refused to consider going up in weight to 145 to fight Cyborg. It was the skeptical fight fans way of saying she was afraid to lose to an opponent who more than likely would present her a challenge in the ring. As her pound for pound ranking kept getting higher, her ego also seemed to be getting bigger and bolder.
She began feuding with Floyd Mayweather, even declaring she could defeat him in the ring. Beyond Mayweather, even her male counterparts in the bantamweight division seemed to be finding themselves receiving a challenge from Ronda as well.
Enter Holly Holm. While Holm was only 9-0 in MMA with only two wins into the UFC, Dana White decided to match Ronda against Holly. Ronda decided to enter into a trash talking campaign against Holm, which for a heel is not a surprise, but from fan views of her in regards to being a champion, it was unprofessional. Ronda even had declared she was going to beat Holm at her own boxing game.
Holm's boxing career spanned 38 matches and three world titles, something that was evident to fans that the then champion was under-estimating Holm. Vegas had been thinking the same thing, as Holm was conservatively an 18-1 underdog against Rousey. And then there were the weigh-ins. As soon as Ronda stepped off the scale, she charged Holm and attempted to get into a brawl with her for the photo op. And last but not least, she uploaded a picture of her and Holm facing off with a rather insult and profanity laden post on Instagram, insulting Holm and calling her "fake."
Then the fight happened. In an attempt to add insult to injury, Ronda refused to touch gloves with Holm after referee Herb Dean's said they could do so. Soon thought the tables were turned, Ronda seemed all over the place, and she ended up chasing Holm around the ring. While Holm was able to land powerful jabs and even defending against Ronda's sole armbar submission attempt.
As the match dragged on, it was apparent that Ronda was not "Rowdy," instead looking winded, uncoordinated, and nowhere near matching Holm in terms of boxing. And in the first minute of the second round, the world was shocked as Holm delivered the kick to knock out "Rowdy" Ronda Rousey.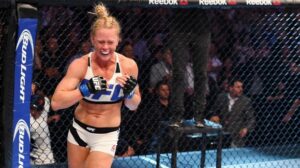 She was no longer invincible, no longer undefeated, and no longer the women's bantamweight champion of the world. In a move for which fight fans would ridicule her further, Ronda refused any post fight interviews.
Even the day she arrived into LAX after getting back from Australia, she tried to hide her face and did not talk to the media.
Ronda is and always has been a Champion. Nothing takes away from what she has accomplished for women's MMA. Admittedly she dominated her opponents in fashion, and lived the life she wanted to live. She still has that. But in the world of sports and Hollywood, how you compose yourself, whether good or bad, will have consequences.
Ronda Rousey found herself clearly humbled after her defeat to Holly Holm, as she has not said much aside from saying she would return in one twitter post. Fans and the media will be looking to see how she composes herself in the upcoming months where she is expected to have a rematch with Holm for the title. Only she can reflect upon the past and make a choice whether or not to continue to be the bad guy..or gal.