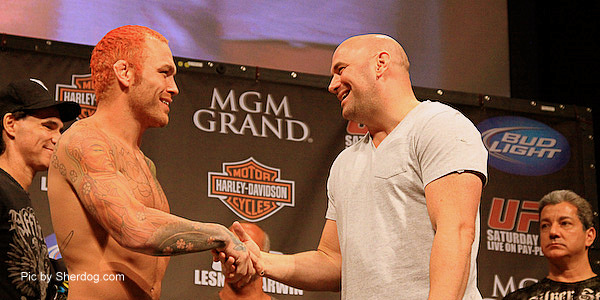 Dana White has been faced with a barrage of questions lately about some of the most controversial decisions made by his company in the past couple months and rightfully so. I think the UFC needs to think harder about giving people fights that haven't earned it.
Chael Sonnen shouldn't be fighting Jon Jones and Stephan Bonnar had no right to be fighting Anderson Silva. Of course Bonnar was aware of this fact when he took steroids to give himself an edge in a fight he was always going to be embarrassed in.
So if Dana wants to take his company in a direction where the best in the world engage in gimmick fights, then he's gonna have to answer some serious questions. Period.
Watch the video below to hear Dana talk about where he ranks Anderson Silva and why he booked the Bonnar fight.

Video courtesy of Kimura.se..