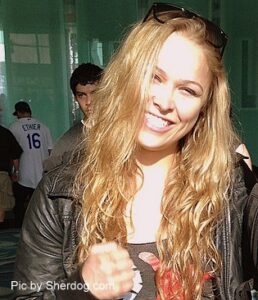 Ronda Rousey has captured all our hearts, including Dana White's.
She is definitely the reason Dana is planning on adding a women's division in the UFC.
With the possibility of her contract  ending early in the event Strikeforce closes its doors (as rumored), it may become a reality sooner than later.
Either way I'm excited to watch the sport of WMMA, and can't wait to witness the first female mixed martial artist hold up UFC gold.
Here's hoping it's Ronda Rousey!
Watch the video below for some great Ronda Rousey action in judo matches, training, and of course: THE CAGE.

Video courtesy of youtube uploader JamesBlair7..