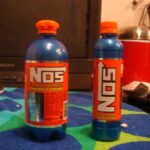 Now I've never been a huge fan of NOS ( Which apparently stands for Nitrous Oxide Systems) energy drinks, even though I drink way to many Rockstars and Fullthrottles. Regardless, I tip my hat to NOS for finally coming up with a great MMA advertisement that embraces the modern MMA fighter as an intelligent human being and legitimate athlete over the freak persona that plagues the mental image of many fight fans.
Personally I'm tired of being forced to endure all the tribal art, Tap Out, Ed Hardy, Affliction shirt wearing tools who refuse to just go back to professional wrestling, Nascar, or whatever other trashy past time they enjoyed before discovering MMA.
Sigh.. So with no further ado, watch the video below and enjoy.

VIDEO COURTESY OF THE COCA COLA COMPANY AND LICENSED BY HOLLEY PERFORMANCE..