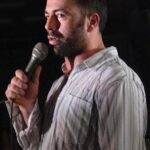 I'm a huge fan of Joe Rogan's and understand completely that I could never do his job. The video below is something I would never expect from him though. He completely botches up the UFC's debut on FOX while on stage with the top brass from both the UFC and FOX.
Even Dana White is looking at him with his patented "WTF" face. I honestly feel bad for posting this. Joe if you happen to see this don't hate me and thanks for making MMA better in all ways except for in this single brief moment.

VIDEO COURTESY OF FOX, THE UFC, AND YOUTUBE UPLOADER asunder39..