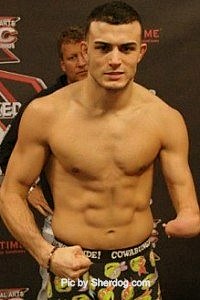 Nick Newell has been in the MMA news headlines these days for his improbable run in professional MMA. He only has one armed due to congenital amputation, yet it has not slowed down or handicapped the undefeated rising MMA star. In fact, as you will see in the video below, it allows him to sink in an unbreakable rear naked choke.
At 9-0 in his MMA career, Newell has submitted, knocked out, and convincingly decisioned his way to the top of a respected professional promotion in XFC Championships. On December 7th at XFC 21 – Night of Champions 2, he punched his ticket via rear naked choke in the first round.
If any doubters existed before he stepped in to the XFC cage and walked out as the champ, they aren't hating now. Watch Newell in the video below as he finishes the XFC Champ and makes history.
Video courtesy of HDNetFights